The Isle of Jura Prophecy Single Malt Whisky
46% ABV/92 Proof
$75
Widely Available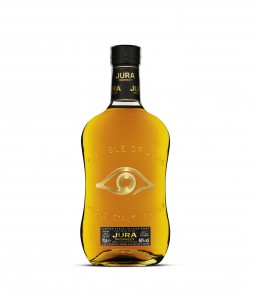 What the Distillery Says:
The latest in Isle of Jura's range of expressions, Prophecy is a solera-style compendium of casks with varying levels of peating and age. Chill filtration was not used by Isle of Jura in order to preserve the malt's unique nuances and character. The distinctive bottle features the "third-eye" of a fabled seer who purportedly predicted the end of Clan Campbell some 200 years before it occurred.
Color: Burnished, old gold
Nose: Abundance of peat smoke upfront yields to clean, briny/iodine close, rounded-out with traces of vanilla, orange zest and spices
Taste: Rich, velvety mouth-feel; profound core of smoky peat at attack and carried throughout; the mid-palette offers an intriguing mix of
heather honey sweetness and dried fruits before turning drier with more intense pepper, nutmeg and cinnamon spice.
Finish: Peaty flavors linger, drying back to a long, slow close.
What Richard Says:
Nose: Fresh cut pine and campfire smoke. Slightly briny.
Palate: Oily yet very clean. More wood smoke than peat. Fruit and honey hide behind the first hit of the smoke.
Finish: Very smooth finish with just a hint of smoke.
Comments: This is kind of like Superstition's more refined older brother. I like this a lot. Oddly enough, it doesn't really taste like a Jura but that's not necessarily a bad thing in this case. While but Superstition and Prophecy stand out, I like this one a little more.
Rating: Stands Out
What Matt Says:
Matt has not had a chance to review this whisky yet.
We would like to than Laura with The Baddish Group for providing us samples for review.