WhistlePig The Boss Hog Straight Rye Whiskey: The Independent
60.3% ABV
$299.99
Website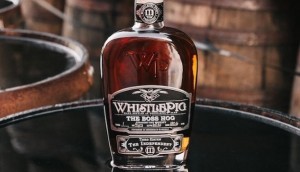 What the Bottler Says:
The name says it all. This is our biggest, most profound whiskey. For the Boss Hog in us all.
The 1st edition, created in 2013, was our best at the time: our best barrels, barrel strength, 12 year aged.
In 2014, the 2nd edition was created as a memorial to Mortimer, one of our founder's first pigs. He died heroically whilst defending the honor of Mauve, his porcine lover and companion. This marked the first time Mortimer appeared on the pewter stopper. Again we used our barrels as barrel strength, this time aged for 13 years.
This 3rd edition of Boss Hog, The Independent, is a celebration of the spirit of entrepreneurship and innovation. This is our first Rye Whiskey ever finished in Hogshead 250 liter Scotch casks – the largest barrels in the business – which were enhanced with new American Oak heads.
The result is extraordinary. A fine balance between complex spices and delicate nuance. There's nothing else like it.
Nose: Oak and vanilla are predominant, with undertones of mint, caramel, and baking spice.
Palate: Warm and bold, with lots of spices. Very faint hints of peat and smoke. Slightly earthy.
Finish: Surprisingly easydrinking for 125 proof with a long, warm, spicy finish.
What Richard Says:
Nose: Mint tea and newly made vanilla extract.
Palate: Heavy on the mint, vanilla, and caramel with a light back smokiness. The press notes are right, this drinks much easier than the proof would foretell.
Finish: Mint, allspice, oak, and dark cocoa powder.
Comments: Apparently WhistlePig is not to be out done by Jim Beam's $300 13 year old rye by coming out with their own $300 rye. It's a bit surprising given the recent release of their 15 Year for $200. Let's be honest, the price stings a bit. This isn't a rye for the masses. However, if you have the opportunity to try this then please do. It is a stellar glass of rye.
Rating: Must Try

We would like to thank WhistlePig for sending us a sample to review.