Rebel Yell Single Barrel Kentucky Straight Bourbon Whiskey
Aged Ten Years since 9/2015, Barrel #4744359
50% ABV
$50
Website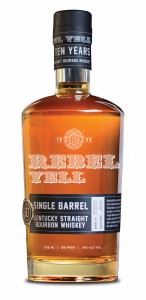 What the Bottler Says:
Handcrafted according to our original, time-honored recipe since 1849, Rebel Yell Single Barrel is aged a full ten years to provide a rich and rebellious flavor. The single-barrel process creates a flavor profile unique to each bottle. The end result is an extra smooth-sipping whiskey that honors the rebel in all of us.
Tasting Notes: Initial traces of caramel and citrus, wiht a velvety smooth finish and just a hint of spice.
Ingredients: Wheat, corn, malt.
Nose: Vanilla, dark fruits, citrus and oak.
What Gary Says:
Nose: Mild oak, caramel, peach cobbler, subtle spice (nutmeg and hints of anise), rice pudding and buttered popcorn.
Palate: Sharp with pepper spice, caramel drizzled pumpkin pie with hints of smoke and oak.
Finish: Moderately long and a bit sharp.
Comments: If I had tried this blind, I would not have guessed this was a wheater (wheated mashbill bourbon). This has more bite and a sharp edge more reminiscent of a rye bourbon. Good for me, since I tend to prefer rye over wheaters! This is a delicious bourbon, with a lot of sweet spice going on, but balanced well with the oak. I'm really glad that they didn't bring this out at the 80 proof that standard Rebel Yell is bottled at. I will caution that if you're a big wheater fan (and prefer wheaters over rye mashbill bourbons), this might be hit or miss. If you appreciate both of those, I would absolutely give this a try. With this proof and age, regardless of mashbill, it is fairly priced (now when is the last time I thought THAT about a bourbon?)
Rating: Must Try
What Richard Says:
Nose: This one comes charging out of the glass as soon as it leaves the bottle with big notes of vanilla cream, caramel fried peach pies, and allspice.
Palate: The palate is a bit more muted than the nose. A few sips rolled around with a splash of water open cinnamon icing drizzled over warm cornbread.
Finish: The oak is very dominant on the lingering finish.
Comments: More wheated mashbill bourbons is not a bad thing. Even better is a higher proofed aged wheater at a sane price. Kudos to Luxco on this addition to the Rebel Yell brand. It drinks closer to a higher proof Fitzgerald as you would expect with the sourcing from Heaven Hill. It doesn't drink like a Sazerac wheated bourbon (Van Winkle, Weller, etc.). It may not be everyone's cup of tea but it's definitely something you should try.
Rating: Must Try
We would like to thank Luxco for sending over a bottle to review.