Meet me at Maker's? That is the current Twitter and Instagram hashtag. Social media campaigns aside, a meeting at Maker's isn't such a bad idea. It's really a gorgeous place. Now, if you are heading to Maker's then most likely you are coming from Bardstown. If you aren't, then you should. Bardstown is a lovely little slice of Kentucky and the spiritual home of bourbon.
Getting to Maker's Mark from Bardstown is relatively simple. Head south out of Bardstown on KY 49 until you hit Loretto. Just so you know, saying Maker's Mark is in Loretto is a bit of a misnomer. That's the postal address and closest town but the distillery feels like it is in the middle of nowhere. From KY 49 head east on KY 52 and then left on Burks Spring Road. By the time you've gotten this far there are plenty of signs to lead you in.
My recent trip to Maker's was my first in many years. A lot had changed as the brand, and bourbon in general grew in prominence. Arriving today, you park in the main parking lot up hill from the distillery and then walk to the entrance to the visitor's center. It is a pretty glass fronted white building with "TOURS" written large so all can see.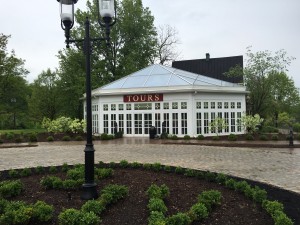 This was added to the old home on premise and the two connect. You can wait in some of the rooms of the old home, which are beautifully maintained, pending your tour.
After a brief wait your tour number will be called. There is usually coffee and sometimes snacks to enjoy while you wait. From the main house you head down a trail and stop outside the main distillery building. You will get the usual tour guide instructions pertaining to safety, photography, and history of the distillery. You will get a nice rendition of family history going all the way back to T.W. Samuels and his cousins Frank and Jesse James, yes that Frank and Jesse. Current ownership by Beam and then Suntory is downplayed a bit but they don't hide it. Regardless of your opinion of the owners, the distillery facilities and tour is much improved over the days before they were bought.
Going into the distillery you see things in a bit of reverse order. First, you encounter the gleaming spirit stills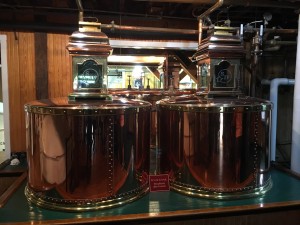 before going past one of the three 11,421.5 gallon mash tubs.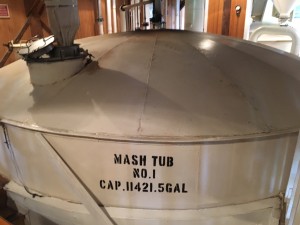 Maker's does the first distillation (low wines) to a proof of about 120 proof (60% ABV) and then second distillation (high wines/white dog) come off at around 130 proof (65% ABV). This is cut to 110 proof before entering the barrel. After the distillation talk you move on to the fermenting tanks. Maker's has 62 make from Douglas fir.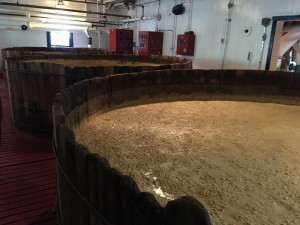 Here you are inviting to sample from several of the washes under fermentation to taste the flavor developing over time. Average fermentation is about three days and it's neat to taste the differences over that fermentation period.
After see fermentation it is on to see where the original labels were printed and cut along with a collection of commemorative bottles. From there you head over to the warehouse for the most wonderful smell in the world…aging whiskey.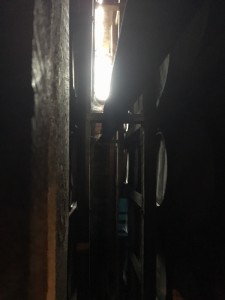 After a brief overview of how bourbon aging work courtesy of your guide then you can take a look at the extra stave process that goes into turning Maker's Mark into Maker's 46. From here you head over to the bottling facility to see where they still bottle onsite and hand dip each one of those red wax (plastic now) tops.
By this point an experienced (or novice) whiskey tourist is getting a bit thirsty. Luckily for you the next stop is the tasting room. As you sit on stools at long wooden tables a tasting is already set out for you.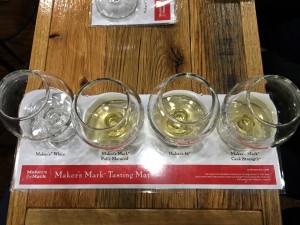 You are led through Maker's White (distillery only white dog), Maker's Mark, Maker's 46, and finally the new-ish Maker's Mark Cask Strength. All of these were fine drinks but the Cask Strength did it for me.
After the tasting you are led out through a corridor surrounded by slumbering Ambassador barrels on all sides and an amazing ceiling of colored blown glass by artist Dale Chihuly that is pretty awe inspiring.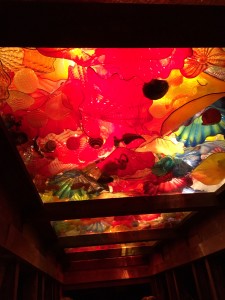 Conveniently you come out into the gift shop. I've been in my fair share of distillery and other tour gift shops but I have to say that Maker's is pretty impressive. You have damn near anything you can imagine made out of barrels and assorted whiskey paraphernalia. If you want, you can dip your own bottles to take home. Also, the distillery just released a cask strength Maker's 46 that as of right now you can only get in the gift shop.
The tour at Maker's is one of the best in Kentucky. It really is worth a stop regardless if you are a new bourbon drinker or an old hand. It offers something for even the most experienced distillery tourist. Just don't worry if you are only halfway there and you are wondering "where the hell am I". Hold the course and meet someone at Maker's.
Location: Maker's Mark Distillery, 3350 Burks Spring Rd, Loretto, KY 40037.
Tour Cost: $9 for the basic one hour tour, additional experiences are available for $25 with pre-booking.
Mashbills: 1 Mashbill: 70% Corn, 16% Wheat, 14% Barley
Barrels: Independent Stave New Oak Char #3
Retail Whiskey: Maker's Mark, Maker's 46, Maker's Mark Cask Strength
Distillery Exclusive Whiskey: Maker's 46 Cask Strength, Maker's Mark White