Royal Mile Whiskies 40 Year Old Blended Malt Whisky
Bottle 62 of 337
47.1% ABV
$275
Website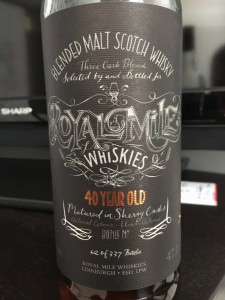 What the Blender/Bottler Says:
Quite frankly, we are delighted with our latest exclusive Royal Mile Whiskies bottling. Three excellent sherry cask matured single malts from the distilleries of Glenrothes, Macallan and Tamdhu have been gently married together to become probably the best value 40 year old malt whisky available in the world today. We're confident that in this age where any whisky with forty years of maturation can cost big bucks, this simple but elegant bottle (nice label, no expensive box) of unctuous malt will bring big smiles to the faces of many whisky fans.
What Richard Says:
Nose: Deep rich baked dark fruits, oiled leather arm chairs, and a recently emptied humidor.
Palate: A good bit lighter and more delicate on the palate than you would expect with old sherry monsters like these blended in. Stone fruits, jarred cherries, dark chocolate, sherry, and oak. It's very tannic forward like an old wine.
Finish: Wood and pepper dominate the finish.
Comments: No doubt that this is a very nice whiskey. The nose on this is stellar even if the palate is a bit underwhelming. By all means, if it is in your price range and you like old sherried malt then grab one if you can find it. However, it's not a game changing old scotch by any means. The value proposition on this for 40 year old scotch is great. Also it's nice getting to taste a bit of history. That, and being able to have one of only 337 bottles too I'm sure.
Rating: Stands Out