Blood Oath Pact No. 3 Kentucky Straight Bourbon Whiskey
Finished in Cabernet Sauvignon Barrels
49.3% ABV
$100
Website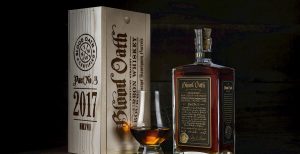 What the Blender Says
A masterful union of well-bred bourbons. Taking the lead is a far-from-shy, sharp and floral rye, finished in Cabernet Sauvignon barrels for a dry, blackberry and espresso complexity. This, coupled with a well-seasoned, rye bourbon, rich with fragrant vanilla, toasted caramel, oranges and oak. Be grateful for this fateful affair between Kentucky and California.
APPEARANCE Deep dark amber with long legs.
AROMA Caramel, vanilla, stone fruit, cocoa, oak.
PALATE Caramel, vanilla, creamy smooth from the barrel finish, toasted oak, apricots, higher spice than the previous pacts but still ultra-smooth for the proof.
FINISH Long lingering spice, balanced and surprisingly-smooth at this high proof, with lasting caramel and oak.
BARREL DETAILS Cabernet Sauvignon Barrel Finish: For the third chapter in the Blood Oath epic, we've conspired with like-minded craftsmen in the heart of California wine country. Nestled in the Oakville region of Napa Valley—famous for its fertile, alluvial soil—Swanson Vineyard has been making nationally known and limited, small batch Bordeaux style wines for over three decades. These prized Cabernet barrels add an unforgettable layer of complexity to the whiskey.
What Gary Says
Nose: Thick, rich dark fruit with chocolate, allspice, oak, cinnamon, and a touch of smoke (maybe cigar paper); together reminds me of a toasted marshmallow.
Palate: Creamy mouthfeel with intense sweetness (but not cloyingly sweet), salted caramel, dark fruit preserves, brown sugar with a spicy bite (but not overly sharp); solid balance with an oak undertone.
Finish: Moderately long, drying with pepper and cinnamon notes.
Comments: I haven't had any previous releases (or "pacts") in this series, but this is a very tasty bourbon. Solid balance between the sweet and spice without losing the oak, and none of those were overpowering. It is a bit brash/sharp, but not overly so – and a bit of water doesn't hurt it (although I didn't find it needed it – delicious neat). Sure – I'm not crazy about spending this kind of money on a non-age stated whiskey (to be honest, I've passed this on the shelves for that reason). But it is pretty solidly in my wheelhouse – and with pricing on most limited releases these days – I'd pick one up now that I've tried it.
Rating: Must Try
What Richard Says
Nose: Luxardo cherries, vanilla extract, roasted fruits, and a sharp bitterness. This whiskey wears its alcohol heavy on the nose. It's a bit challenging to pull the pieces out. You would think that this ran about 20% higher in alcohol with the nose.
Palate: Caramel apples, Tabasco, wet pulp, more vanilla extract, and cherry pie filling.
Finish: The finish is a bit hot with heavy wood, black pepper, and tannic influences.
Comments: This is a very nice and enjoyable whiskey but it wears the alcohol hard. A couple of splashes of water settle this bad boy down to a nice enjoyable experience. I am admittedly not a fan of wine finished, or really any finished bourbons. The exceptions are far fewer than the ones that come up short. However, this is definitely one of the better ones. I've heard that Pact 3 is the best yet and far superior to the first version of Blood Oath. I've only had this one and cannot opine of such things but it is very nice none the less. The hardest thing for me to swallow about this bourbon is the price tag. It's a solid $50 bourbon. It's an interesting $75 bourbon. At $100+ I would let this one pass. If you are lover of wine finished bourbons (Jefferson's Groth, etc.) then you may find this one pretty stellar. For fans of good old fashioned middle of the road bourbon, you may want to keep that Benjamin in your wallet. I highly recommend trying before you buy if at all possible.
Rating: Stands Out