On the 15th day of Advent, my calendar gave to me…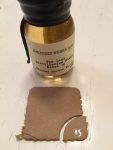 The Lost Distilleries Blend Blended Scotch Whisky
Batch 10
51% ABV
$400
Website



What the Blender Says
It is no secret amongst whisky-lovers that some of the greatest and most admired distilleries in Scotland are those that have sadly closed over the years. Be these closures due to economic circumstance, lack of demand, or just bad fortune, many of the whiskies left behind have attained iconic, near-mythical status amongst the whisky cognoscenti.
The Lost Distilleries Blend has reached double digits! Yes, The Blended Whisky Company's exceptional blended Scotch whisky created exclusively with malt and grain whiskies from distilleries that have shut their doors has arrived at its 10th batch. As ever, stocks both rare and sought-after by whisky collectors and cognoscenti alike have made their way into the Lost Distilleries Blend – this time featuring whisky from Caperdonich, Rosebank, Imperial, Mosstowie, Glen Mhor, Glenisla, Glenlochy, Craigduff, Port Ellen and Brora, alongside grain from Port Dundas. A marvel of blending and a fine tribute to those gone but not forgotten greats.
Batch 10 is a release of 1,041 bottles.
What Richard Says
Nose: Deep notes of warm fruit, polished old oak furniture, fine aged tobacco, rich vanilla cream, and that wonderful "old whisky" nose.
Palate: Stewed stone fruits, more vanilla cream, raisins, and toffee.
Finish: Herbal and smoky with a sprinkling of cocoa powder and ground black pepper. After all that fades it gets really bitter.
Comments: Delicious! This is a very complex and well integrated old blend of scotch. It is pricey and not widely distributed. I don't think that I would scour the earth for a bottle but if you come across the opportunity to try it then you definitely should.
Rating: Must Try