Laphroaig Cairdeas Quarter Cask Islay Single Malt Scotch Whisky
57.2% ABV
$115
Website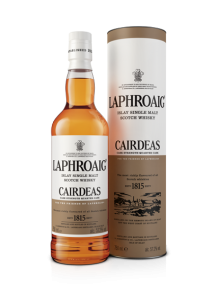 What the Distillery Says
For several years, our Friends of Laphroaig have been interested in tasting a Cask Strength version of our popular Laphroaig Quarter Cask — which offers an irresistible doubling of flavour, due to the double maturation in two barrels made of American oak. This year we decided to bring this dream into reality.
First fill Makers Mark casks have been used for the first maturation of 5+ years in Warehouse 1 next to the Atlantic Ocean. Different ages have been awoken temporarily to be brought together, before laying to rest for a second time in our smaller quarter casks (125lt). After a further 6 month maturation, the liquid from 177 of these casks were put into the bottle at Cask Strength, with no colour, no chilling and a simple barrier filtration.
What Gary Says
Nose: "Classic Laphroaig" profile – medicinal (band-aids, iodine, rubber bands), sea air, peat, earthy – but with a really nice hint of sherry sweetness followed by some smoke; not as hot or sharp as I'd expect at this proof.
Palate: Oily mouthfeel with sweet malt that kicks up after a bit, with pepper, peat, sour oak and smoke throughout.
Finish: Fairly long and with a drying peppery smokiness that leaves me wanting more.
Comments: I've found that Laphroaig is typically one of those "polarizing whiskies" – most folks either really like it or don't care for it at all. I'm in the "really like it" camp. Laphroaig holds a special place for me as the first Scotch I fell in love with, and my first sip of this one lit me up inside. It reminds me of Laphroaig PX Cask, which I really enjoy (but unfortunately can't buy retail in the US). It has that nice sweetness added to the peaty/medicinal/sea-air profile. This drinks like a lower proof pour – and while water doesn't hurt it (really maintains that nice oily mouthfeel), I didn't find myself needing to add any. If you're a fan of Laphroaig, I'd absolutely look for a chance to give this a shot.
Rating: Must Try
What Richard Says
Nose: The nose of this reaches out and grabs you. As soon as it goes from bottle to class the smokey, seaweed laden smell come right at you. Spend more time with a bit of water in it and creamy vanilla notes start to come out.
Palate: More of that rich and creamy vanilla hits you first before it starts to settle in to campfire smoke and a classic Laphroaig astringent medicinal flavor, not unlike Bandaids.
Finish: I'm left with a heavier medicinal finish and wisps of smoke. There is also something there that's almost meaty.
Comments: The only Laphroaig better than Laphroaig is cask strength Laphroaig. If there is every a scotch that carries proof well it is Laphroaig. This is everything good about the Quarter Cask kicked up a notch. I'm saying this is a must try whisky but you don't care for Islay scotches then this probably isn't for you. It's not the most interesting Islay out there but if you like your scotch young and peaty then this one is for you.
Rating: Must Try
We would like to thank Laphroaig for sending us a sample to review.