Laphroaig Islay Single Malt Scotch Whisky Aged 18 Years
48%
$100
Website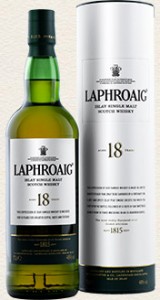 What the Distillery Says:
This 18 Year Old expression of Laphroaig is made in limited quantities each year and savoured by a fortunate few. A soft, sweet and spicy Islay peat smoke greets you when you first open the bottle. The immediate taste is an oak sweetness, from 18 years in the barrel. A faint hint of the sea can be detected, testimony to its time maturing on the remote island of Islay.
It is bottled at 48% ABV and is non-chill filtered for a depth of taste and texture.
COLOUR: Bright gold
NOSE: At bottling strength, a soft toffee sweet but faintly spicy flavour counterbalances the trace of delicate phenols and fruit. An all encompassing smoothness brings these together. A touch of water allows the seaweed and salt to come through but not enough to overpower the vanilla and honey sweetness with just a trace of new mown hay and peat at the finish.
BODY: An intense depth that is exceptionally balanced and warming.
PALATE: An instant warming tang of smoke fades into smooth floral scents, which blends seamlessly into an oaky nuttiness and leaves a lasting sweetness on the taste. With a touch of water, the peaty warmth fills the mouth but does not overshadow the sweet chocolate smoothness. This is balanced by the rich toffee taste and slowly fades into a delicate hint of heather and peat smoke.
FINISH: Full bodied, long with a luxurious oily smoothness.
What Richard Says:
Nose: Light on the peat, hints of sherry, more fruity, and hints of crushed peppercorns around back of the nose. Cucumber salad comes to mind. I have no idea why.
Palate: Creamy, with a nice initial smokiness. The floral sweetness takes time to develop.
Finish: Long and spicy.
Comments: When this replaced the 15 I was sad. I really liked the 15. Plus, soon after the replacement the price started creeping up too. That said, I've grown fond of the 18 over the years. The 15 was more subtle and showed a more mellow and integrated side to Laphroaig. However, the 18 is a much richer dram. Really, you can't go wrong with either one. This is not a dram for the Islay peat-freaks out there. It's more distinguished, less brash. Maybe that's your thing or maybe it's not. Personally, I'm digging it lately but it took me time to warm up to how different this is from the younger siblings.
Rating: Must Try
I would like to thank Ben and the team over at DBC Public Relations for providing us with bottles for review.