Laphroaig Islay Single Malt Scotch Whisky Aged 10 Years Original Cask Strength
Batch 005 Bottled February 2013
57.2%
$60 to $70
Website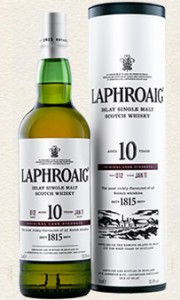 What the Distillery Says:
Original Cask Strength Laphroaig is bottled at natural distillery strength with all the depth of genuine taste and texture normally associated with sampling whisky at source.
We mature Laphroaig in seasoned oak barrels, charred before filling to impart a slight sweet vanilla nuttiness. Original Cask Strength Laphroaig is barrier-filtered only just, to remove the small char particles present. This means you will enjoy Laphroaig exactly as we made it.
In extremes of temperature and when you add water it may appear a little cloudy – this is the natural condition of a malt of such a peaty pungence and uncompromising purity. Adding a little water releases a rich aroma of peat smoke with some sweetness and strong hints of the sea.
Emphatic, full bodied and utterly unforgettable – we like to think it's the purists choice.
COLOUR: Rich deep gold
NOSE: Very powerful, "medicine", smoke, seaweed and ozone characters overlaying a sweetness
BODY: Full and strong
PALATE: A massive peated burst of flavour with hints of sweetness at the end
FINISH: Long and savoury
What Richard Says:
Nose: Oozing with fresh sea air, peat smoke, and seaweed. An almost minty medicinal note. Aggressive and in your face.
Palate: Nice initial toffee sweetness laying into a light brine.
Finish: Heavy on the peat with light pepper notes. The smokey finish lingers for quite some time.
Comments: Wow what a difference a little proof and less filtering makes. This is the better looking older brother who is captain of the football team compared to the standard 10 year old. Seriously delicious and surprisingly easy to drink at cask strength.
Rating: Must Try
I would like to thank Ben and the team over at DBC Public Relations for providing us with bottles for review.