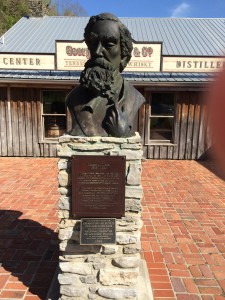 George Dickel…the other Tennessee whiskey. That's not really their slogan but when I first visited Cascade Hollow over ten years ago it kind of felt like that was their only point. Since then they have expanded their product offerings, expanded their tour, and seem to be heading down the path of coming into their own.
My most recent visit to George Dickel was the early part of last year. It was an exceptionally cold spring day but it was also exceptionally beautiful. Those of you who haven't ventured into the valleys (or "hollers" as they are called) of the Tennessee and Kentucky mountains are missing some truly beautiful country. To get to the distillery you need to take exit 105 off of US interstate 24 regardless of whether you're coming from Nashville or Chattanooga. If your GPS or Google Maps sends you a different way ignore it. Trust me I've made that mistake before. From exit 105 turn right onto highway 41 South. After about 1.5 miles you turn right onto Blanton Chapel Road. Continue on for about 4 miles until you come to a stop sign where you can turn left onto Lyndell Bell Road. Follow the signs to Normandy Dam (3.5 miles) and take a right onto Frank Hines Road. Pass by the Dam and continue on Frank Hines Road into Normandy. With railroad crossing on your right, go straight onto Cascade Hollow Road and follow the signs for 1.5 miles to the George Dickel Distillery and Visitor's Center. It's about an hour from Nashville and an hour and a half from Chattanooga.
Now because you are whiskey people you might also be coming from Jack Daniels which is about 20 minutes away. From there take highway 55 to Tullahoma, TN. Turn left on 41A North. Turn right onto Hunters Lane between the Hampton Inn and Ruby Tuesday Restaurant. Turn left at end onto Normandy Road (Hwy. 269) and go approximately 7 miles to Normandy. At stop sign turn right across railroad tracks. Turn right again on Cascade Hollow Road. Distillery is 1.5 miles. I know you are looking at these directions thinking this is some crazy twisty way back into the middle of nowhere. Well, yes it is. Cascade Hollow is a very quiet place. However, if you think this is a crazy way to go then try one of those other routes the Google tries to send you.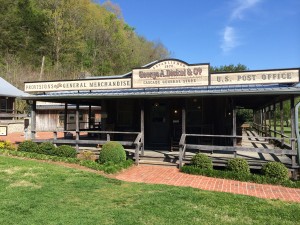 Once you arrive it's time to begin the tour. They do tours from 9AM to 4:30PM Monday through Saturday. They start every 30 to 45 minutes or so but to be honest it's pretty laid back and no one seemed in too much of a hurry. There is a basic tour which is free or an extended tour with tasting at the end for $10. Do the $10 tour. You didn't drive all this way just zip through an abbreviated tour and not taste their whiskey did you?
When we went there were two very lovely Tennessee ladies accompanying us on the tour. They were gracious and thoroughly knowledgeable about the distillery, its history, and its products. After a brief history overview at the visitors center you set out across Cascade Hollow Road and then a small bridge over the creek on your way to the distillery. As you are crossing the lawn that wonderful smell of a sour mash distillery at works wafts towards you. If you like boiled peanuts you'll love this.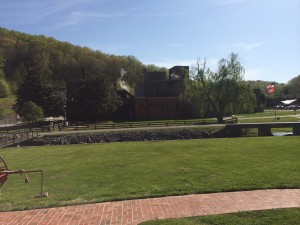 When you first enter the distillery you are inundated with a wall of noise. It can be a bit hard to hear the guides when the distillery is running. The first stop is the mash tubs where they go over the mash bill (84% Corn/8% Rye/8% Barley), the four hour mashing process, and show you the pumping of the mash up to the fermenters. On the way up they talk about Dickel's yeast and the three to four day timing of the fermentation which results in their 6% to 8% ABV distiller's beer. An interesting fact that we picked up was that their rye, while made on contract by MGP in Indiana, actually uses Dickel's proprietary yeast instead of one of MGP's yeast strains.
As you are walking around you immediately see how much more manual the Dickel process is than other large U.S. whiskey producers. There's not a computer terminal in sight. When they say they do it manually, they mean it. Another note of contention is the contract production that is thought to be done at Dickel. Their people swear they don't make anything other than Dickel because they don't have the capacity. After seeing how manual their distilling is I can start to believe that.
Next, off to the stillhouse. Just beneath the still is the barreling area which is kind of neat to watch if you can be there when they are barreling. After looking at the stills we go through their distilling process. Their low wines come off a column still at about 115 proof (57.5% ABV). The high wines come off a pot still at about 130 proof (65% ABV). Off the stills the whiskey is chill filtered before going into their mellowing vats. Their reasoning was that George used to prefer the smoothness he got from winter made whiskey over other seasons. Take that for what you will. The mellowing vats have 13 feet of charcoal and perforated plates covered with wool blankets on either side. For an entire batch of distillate to trickle through takes about 7 to 10 days. From there it goes to the barrels.
After leaving the stillhouse you walk past the silos where spent grains are held prior to local farmers picking it up for livestock feed. From there you go into the warehouse where they store the barrels for private selection. The other 12 standard warehouses are on the hills surrounding the distillery. They hold about 198,000 barrels and are six racks high and 25 to 30 barrels deep in the single story warehouses. That single story design means they don't rotate barrels. This kind of makes sense with their manual work processes. At this point in the tour the guides go through the barrel wood, the maturation process, angels' share, etc. The No. 8 sits for five to seven years, the No. 12 is eight to ten years, and the Barrel Select is 12 years.
From the private barrel warehouse we head to the media and marketing room where you can see old and new media, photos, advertisements and memorabilia. After that is the obligatory video that marketing takes pride in. The video shows barreling if you didn't get to see it as well as bottling and the rest of the production process. Due to bottling line capacity constraints the only things bottled on site are the private selection barrels and the Orphan Barrels for parent Diageo. Everything else is loaded onto unmarked tanker trucks and shipped to Diageo's bottling facility in Plainville, Illinois.
After the video we head off to the tasting room. There we run through the whole line of their standard products (No. 1, No. 8, No. 12, and Barrel Select). After the tasting it's back to the visitors center to purchase any bottles or memorabilia that may interest you. One note on the bottle purchases. There is a bottle available of private selection (9 year old when we were there) that was picked by their Master Distiller. The ones in your local liquor store picked by the store owners are around $45. The one at the distillery is about $100. The only discernible difference to me is that you get to sign the barrel that it came from there in the visitors center. I don't know about you but my signature isn't worth $55. Buyer beware.
Bottle aside, if you are in the area and are a fan of Dickel this is worth a stop. Cascade Hollow is a beautiful part of the country and Dickel offers a nice contrast to larger operations. So stop in, take a tour, enjoy some whiskey, and avoid that gift shop bottle. 😉