Craigellachie Speyside Single Malt Scotch Whisky Aged 17 Years
46% ABV
$150
Website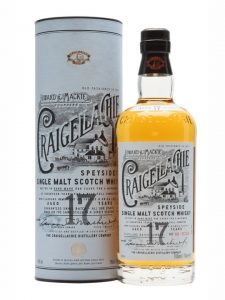 What the Distillery Says
Smooth and mellow, the aroma opens with vanilla and rich, silky notes of exotic fruits with a hint of smoky liquorice.
To the taste this 17 year old Craigellachie delivers a smooth, sweet palate, with a smoky, lingering finish.
What Gary Says
Nose: Thick, rich and soft, malty dark fruit with raisins and figs over sea brine; hint of smoke and anise.
Palate: Mouthfeel is a tad thin, subtle dried fruit sweetness with a bit of pepper spice.
Finish: Moderately long and drying, bit peppery near the end.
Comments: When I nosed this pour, it brought back fond memories of my trip to Scotland and specifically the afternoon I spent aimlessly wandering around the River Spey. This nose is a really nice example of what I imagine when someone says Speyside. The palate on the other hand I found left me wanting. Nothing off-putting about it, but if the nose was listening to the Scottish bag-pipes with the knob turned to 8, the palate felt like someone turned the volume way down. For me, it was beyond subtle to the point where I just missed it.
Rating: Average
What Richard Says
Nose: Thick and meaty with lots of raked wet leaves, vanilla incense, and black licorice.
Palate: Rich and deliciously sweet. Honey Nut Cheerios, vanilla cream filling, and a deep balancing "green" flavor.
Finish: The finish is very grain forward and of medium length.
Comments: Yes please! On my recent trip to Scotland we stayed in the town of Craigellachie. And even though we did quite a bit of whisky tourism, I never actually made it to the so named distillery. However, I did sample many lovely expressions of their malt at the bars and pubs in the area. Each was delicious. This bottling is no different. Dave Broom describes the paradox of Craigellachie as muscly and sweet. Very true words. I highly recommend trying this great malt, which until recently was relegated by it's owner to being just a blend component. I can live with a few less bottles of Dewars in we can see this malt sing on its own.
Rating: Stands Out
We would like to thank Dewars for sending us a sample to review.