Kirkland Signature Blended Scotch Whisky
Sherry Cash Finish, Aged 21 Years
40% ABV
$79.99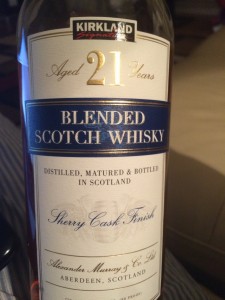 What the Bottler Says:
This Kirkland Signature 21-year-old Blended Scotch Whisky has been created using a selection of some of Scotland's finest single malt and grain whiskies. Matured in ex-Bourbon casks for a minimum of 21 years, the whiskies are then blended together and finished in Sherry casks. The result is a blended Scotch that is dark amber in color with aromas of Sherry and an intense yet subtly complex taste of fruit and toffee, which give way to a long, gentle, warming finish.
What Richard Says:
Nose: Rich, chewy, meaty, and slightly sweet sherry notes dominate the nose.
Palate: Rather mellow and uninspiring. Let it roll around in the mouth a bit and sherry notes come through with a sweet and tannic undercurrent. Berry compote and dried caramel flakes drive the sweetness.
Finish: Wine tannic and wet toothpicks. This one finishes kind of blah.
Comments: This bottling is the sherry forward blend that preceded the current 24 year old bourbon cask blend under Costco's Kirkland Signature label. I'm a big sherry nut but this I like less than the newer blend. The sherry is heavy handed and a bit of a one trick pony. Beyond the sherry it is rather bland. If I was to recommend this to someone it might be as a table whisky at the hunting shack for a Macallan devotee.
Rating: Average