Compass Box The General Blended Scotch Whisky
Bottle 1625
53.4% ABV
$300 to $350
Website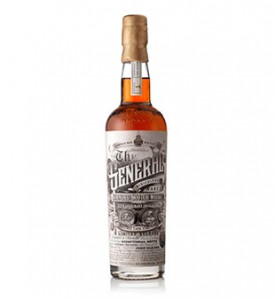 What the Blender Says:
It's been a good year for sourcing ridiculously rare parcels of extraordinary whisky.
Two different companies approached us recently with similar stories: they each had several casks of Blended Scotch that had been blended at quite young ages, then not required and put back into cask and left to age. One parcel was 33 years-old and the other was…well, I'm afraid I can't tell you. (By telling you the age of the other parcel, some might argue we are in violation of the UK's Scotch Whisky Regulations – citation 2009 No. 2890. But that's another story.)
We know little of the component whiskies, only that, being Blended Scotch Whisky, they were blends of both single malt and single grain whiskies.
We could tell by tasting that some were aged in former American whisky casks and some in sherry casks. But the provenance wasn't really important, because each parcel had matured into something extraordinary in flavour, and to us, as blenders, they each represented distinct and complementary flavour profiles.
And this is where things got interesting for us. While each parcel was compelling in its own right, we had the feeling that by combining them in the right proportions, we could make something even more interesting. So we experimented for many weeks, blending the two together at different proportions before landing on the recipe in this bottle.
The result is a whisky with the "antique" character lovers of old whiskies seek out.
Availability
Limited Release of 1,698 individually-numbered bottles. Bottled in November 2013.
Flavour Descriptors
It has extraordinary depth, with aromas and flavours reminiscent of spices, dried fruits and old sherry wine character. The palate is very soft, a
virtue of blending malt whisky with grain whisky, and the finish is very, very long.
Recommendations
This is a classic late-night-and-into-the-early morning whisky.
Bottling Details
Bottled at 53.4%
Not chill-filtered
Natural colour
What Richard Says:
Nose: Oh God, that is amazing. There is just something about old scotch. Light sweet sherry, orange marmalade, apricots, and old furniture polish.
Palate: Old book leather, fine aged tobacco, cinnamon, clove, cardamon, oatmeal raisin cookies, and rich old oak furniture.
Finish: A little dusty but in a good way. It's like settling into an old leather arm chair in a gentleman's study that was closed up for a while. There's a dry oak and dusting of Dutch processed cocoa powder finish that lingers for what seems like hours.
Comments: Oddly, the best thing about this whisky isn't even the whisky itself. It's the conversation we (GBS members) had with John Glaser about this while tasting it for the first time. The guy's knowledge and passion really shine through. This new limited release is the result of two blends that came into the possession of Compass Box. According to Mr. Glaser one is around 33 years old and of unknown province. This one came via a whisky broker. The other is around 40 years and came from Gordon and MacPhail. The uniqueness of this whisky has many layers. It's very old. It is a blend of blends. And those blends were pre-blended and aged as blends subsequent to blending. The back story is almost as interesting as the whisky.
Rating: Must Buy