Caribou Crossing Single Barrel Canadian Whisky
40% ABV
$45 to $50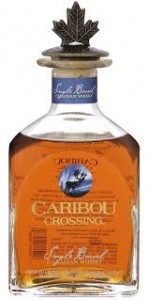 What the Distillery Says:
Like the long seasonal journeys taken each year by the majestic Caribou hers of North America, this bottle of Caribou Crossing Single Barrel Canadian Whisky has been on a journey of it's own.
Caribou Crossing Single Barrel has been painstakingly handcrafted by our expert whisky making team which has selected the finest whisky available from our inventory of over 200,000 barrels. The whisky has been patiently aged in oak for many years to give it a rich and complex yet smooth flavor. Each barrel is then bottle individually with expert care and skill under rigorous quality standards.
A new Canadian Whisky as bold and adventurous as the great Caribou who roam the wild. Caribou Crossing is a Canadian Whisky unequaled by any other.
What Richard Says:
Nose: Heavy maple syrup. Cliche given it's Canadian I know but it's oozing with the stuff. Stewed cherries and creamy vanilla sweetness.
Palate: Lots of creamy vanilla here too. Less maple syrup and more butterscotch. Lightly woody.
Finish: Pepper, oak, and dry rye spice.
Comments: This is almost enough to change my religion on Canadian whiskey. 😉 Seriously though, this is a great dram. The nose and palate are fantastic. The finish is a little bitter and tannic but that just makes me want to keep more on my palate.
Rating: Must Try