Booker's Rye Big Time Batch
Kentucky Straight Rye Whiskey
68.1% ABV
$300
Website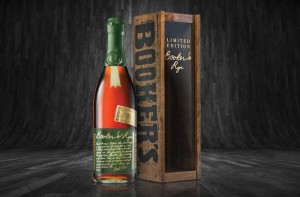 What the Distillery Says:
Booker Noe was known for his innovative thinking, big personality and, most of all, his big-flavored bourbon. He spent his days experimenting at the distillery, tinkering with different grain mixtures, and was always intrigued by the challenge that the temperamental rye grain posed. Never one to back down from a challenge, he went big in 2003 and laid down a limited number of barrels of a rye whiskey, creating the first ever Booker's Rye. When you take one sip of this whiskey, you'll agree that it is "Big Time" all the way.
It has an intense flavor profile with pronounced, well-balanced notes of wood and oak from the longer aging process. The deep amber liquid offers a complex aroma with spicy notes from the rye in the mash bill.
This uncut rye has a spicy and robust flavor, but is not overpowering. It can be enjoyed neat or on the rocks.
What Richard Says:
Nose: It's a little woody but not too much. The proof needs a bit of water before the nose can really develop. Deep sooty caramel, fiery cinnamon, oiled leather, and hint of tobacco.
Palate: Whoa! So delicious and so hot at the same time. The experience of the first taste reminds me of the first time I had George T Stagg, although this doesn't go down quite as smooth. It is rich, thick, and sweet…oozing cinnamon Red Hots, baking spices, and cooked brown sugar and butter.
Finish: The finish is dry with lots of leather, cigar tobacco, and cocoa powder.
Comments: Supposedly this isn't just high proof extra aged Knob Creek Rye. According to the distillery this was a special recipe rye that Booker created and laid down the year before he passed away. I don't know if that is marketing hooey or the real deal but this tastes unlike any rye that I've ever had. This is absolutely delicious. If it wasn't ridiculously over priced at $300 a bottle then I would say scour the earth for every bottle you can find. It's a shame really, because this is such delicious whiskey and it's marred by the stigma of Beam's recent pricing missteps (Knob Creek 2001, Booker's Bourbon, and this). All that aside, this really is a drink that you should experience. $300 for the bottle? No, but if you can get a glass for $30 to $40 at a bar then jump on it.
Rating: Must Try
We would like to thank Beam Suntory for sending us a sample to review.