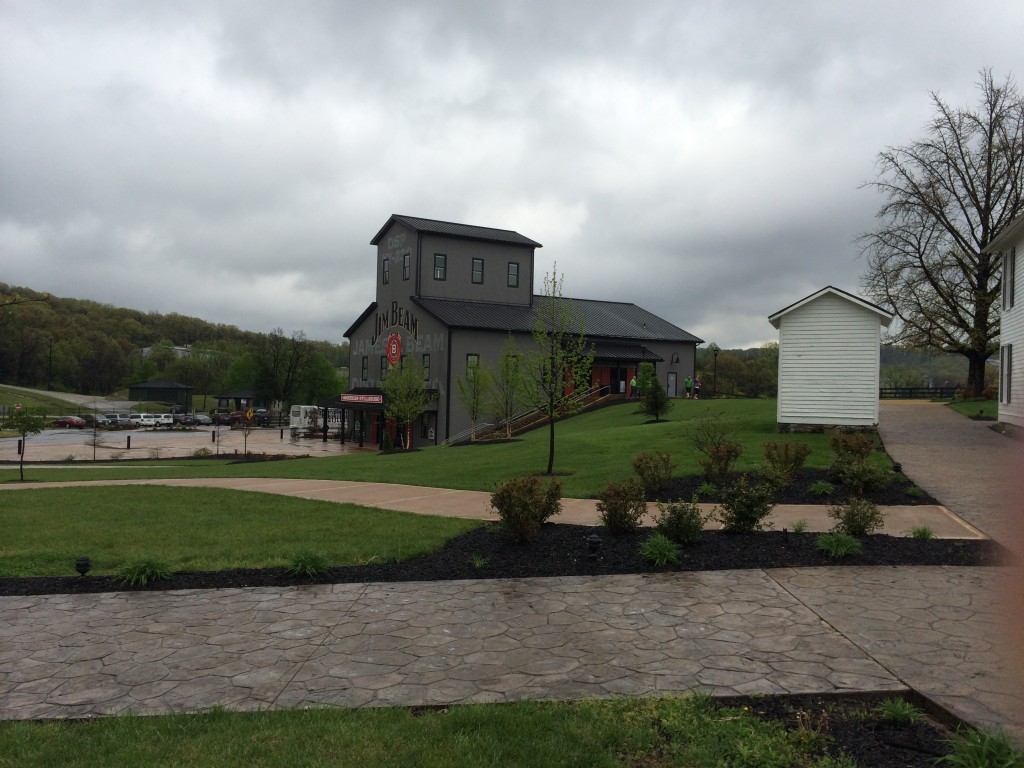 Jim Beam is about as ubiquitous to bourbon as you can get. As the number one selling bourbon in the world (we won't get into the whole Jack Daniel's thing today) you can find it in the far reaching corners of the world. Even though you can find it almost anywhere, you might want to consider visiting where it's made. Well, it's actually made at two distilleries…one in Clermont, Kentucky and another in Boston, Kentucky but only the Clermont location is open for tours. This past April I made the trek to Clermont with some Georgia Bourbon Society pals to see what it was all about.
I've been to Jim Beam once before a number of years ago and the video and gift shop they had then was a distant and sad memory from what they have now. It's referred to as the American Stillhouse and it is a great new facility. To get there you can either take I-65 north to Kentucky highway 245 south to Happy Hollow Road or from Bardstown, Kentucky take 245 north to Happy Hollow Road. Ten years ago when I was last there you could walk up, get in line, see the video, have a sip of bourbon and be on your way in about 30 minutes. Now, I would recommend booking a reservation in advance. There are two tours available at the moment. We took the standard Guided Tour which is $10 and that does not go towards any purchases in the gift shop. It's about 75 minutes. There is also the VIP Super Premium Tour with Fred Noe for a modest $199 and that one lasts about six hours.
Once your tour begins you load up outside of the gift shop in a branded bus and head up to the distillery. The tour starts by walking you through the distilling process in the miniature experimental distillery they have set up in a smaller complex next to the main distillery. It's been around for about two years. The tour guides are well spoken and surprisingly knowledgeable. They walk you through the history and legal designations of bourbon and what is required to make it while in the old water sourcing warehouse.
From there you head to the miniature cooker, fermentation tanks, and still to talk through grains, mashbills, and yeast. The standard mashbill for Jim beam, Old Crow, Knob Creek, Baker's, and Booker's is 76% corn, 13% rye and 10% barley. Their higher rye mashbill used for Old Grand Dad and Basil Hayden is 63% corn, 27% rye, and 10% barley. During the discussion of yeast our guide confirmed (multiple times) that they are now using the same yeast for all their whiskeys. In 1987 when National Distillers Group sold their spirits business to Fortune Brands Beam brought over the yeast National Distillers was using for the Old Grand Dad brand and mashbill. At what time that was converted to the standard Beam yeast strain for Old Grand Dad products has not been confirmed. I guess that kind of makes it "New" Grand Dad. 😉
In discussion of distillation it was also confirmed that the Boston plan makes exclusively product destined for Jim Beam White and the flavored Beam products. Everything else comes from the Clermont distillery along with the balance of the Jim Beam White destined distillate. For nearly all the Beam products the low wine comes off the still at 125 proof/62.5% ABV and off the second distillation at 135 proof/67.5% ABV for the high wines. From there it gets watered down to the legally required 125 proof for barreling. Booker's is the exception. It is distilled at a higher temperature thus equaling a lower proof (more of the water evaporates with the alcohol at the higher temperature) and comes off the first distillation at 115 proof and the second distillation at 125 proof so that it can go straight into the barrel with no additional water.
Next they take you to the miniature filling station. A volunteer gets to fill a barrel surrounded by the barrel heads of all the commemorative barrels of bourbon made by Beam. After this it's off to the full distillery.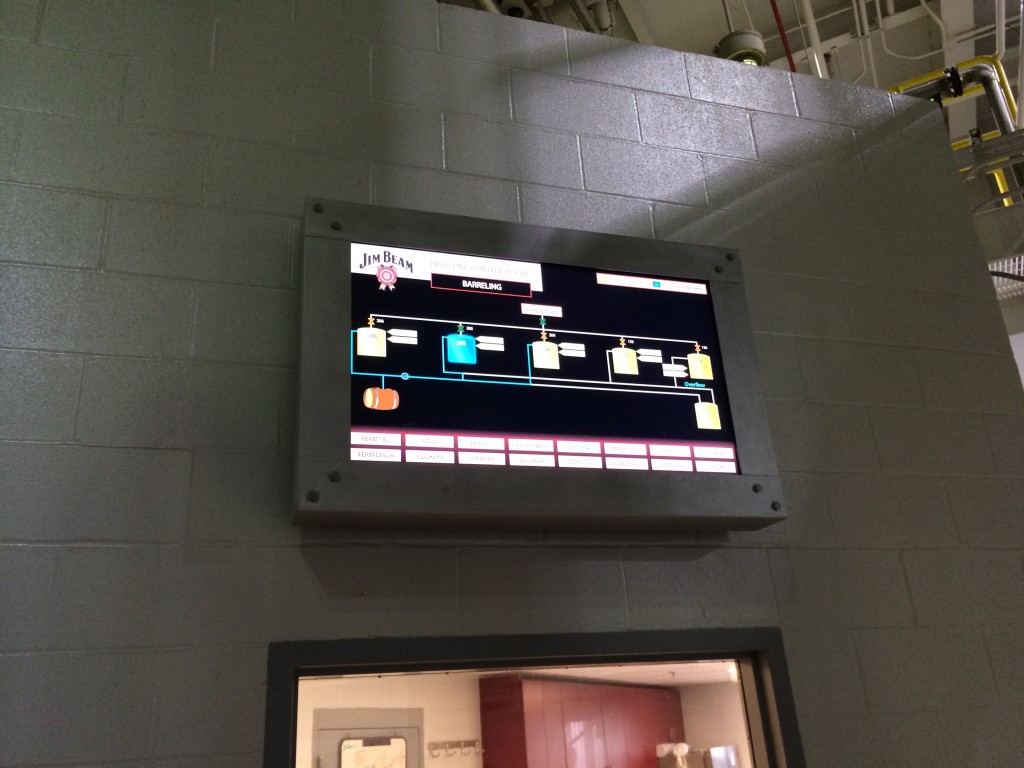 Down a walkway you head into the main still room. These babies are huge compared the little experimental stills you just saw. This is a high performance, high quality control operation. Through the mass of production noise you can see computer displays showing all the production metrics. It's quite a sight but it's so loud that you're happy to soon head back out.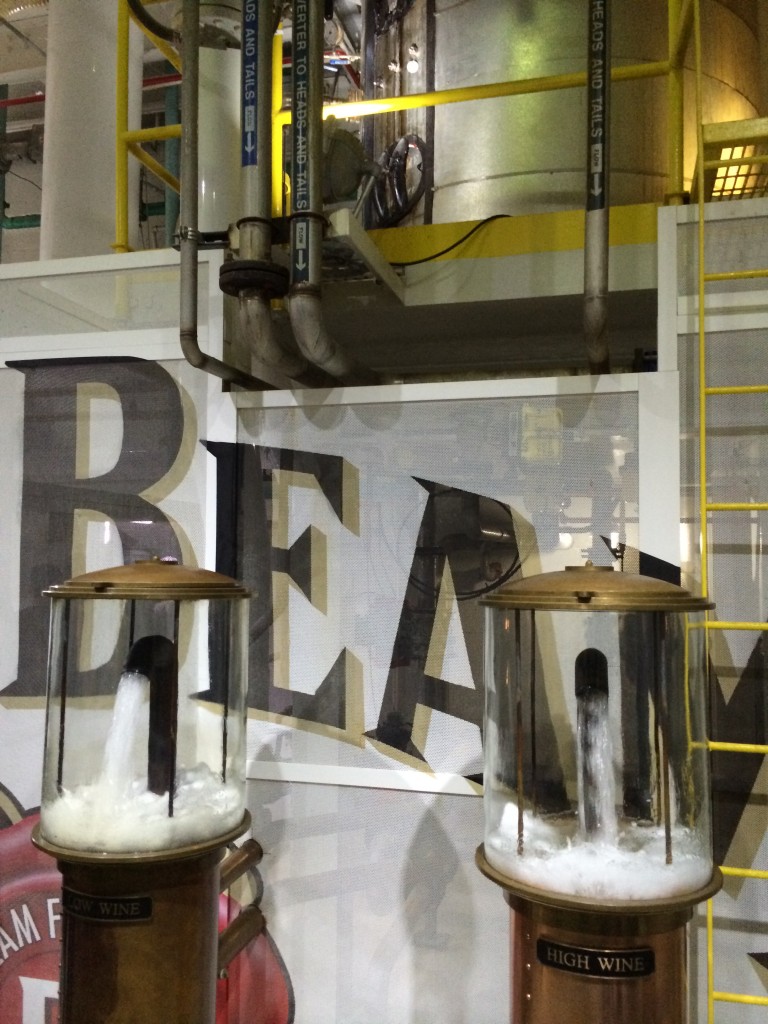 The next area is for dumping. Knob Creek was on the dumping block when we came by. Everyone got a nice sniff and then we were ushered over to the bottling line. You now have the opportunity to hand bottle either a bottle of Knob Creek Single Barrel or Jim Beam White Single Barrel. The neat thing we found out is that the excess whiskey from the barrel (no barrel yields exact multiples of 750 mls) is used to wash these bottles so that there is no water or bourbon contaminating the Single Barrel bottles that didn't come from that barrel.
The last stop in this area was the decanter room. It's kind of neat to see all the different designs that have held Jim Beam over the years. Some of them are so ornate that you can barely imagine them actually holding bourbon.
Next we are off to the warehouse. Nothing to me smells as good as a whiskey warehouse. All that old whiskey slowly giving up shares to the angels makes for a delicious aroma. A few places where barrels are raised and dropped allow you the chance to look up vertically and see how many stories of whiskey are stacked in each warehouse. It's impressive.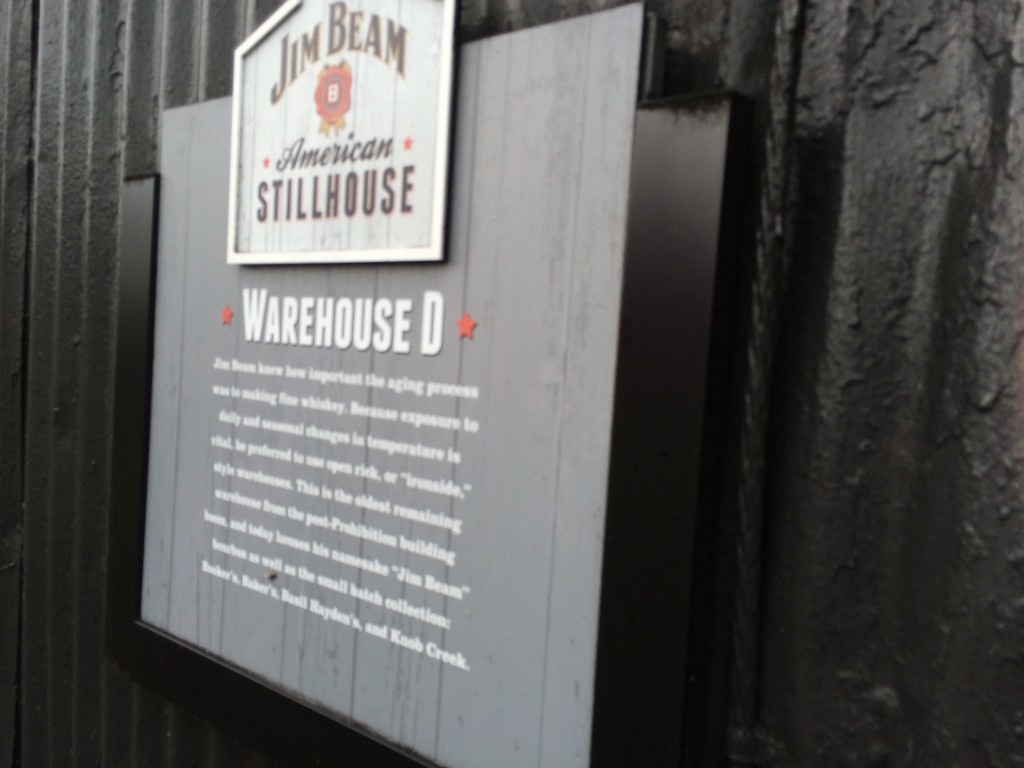 After the warehouse you head to the tasting room. This is a cool set up. You get a pass card that is good for two pours from these drink machines that I've only seen at wine bars. You can choose your two pours from any of Beam's regularly sold products (no Old Grand Dad, Old Overholt, or Old Crow). After your tastes you can head home or back to the gift shop.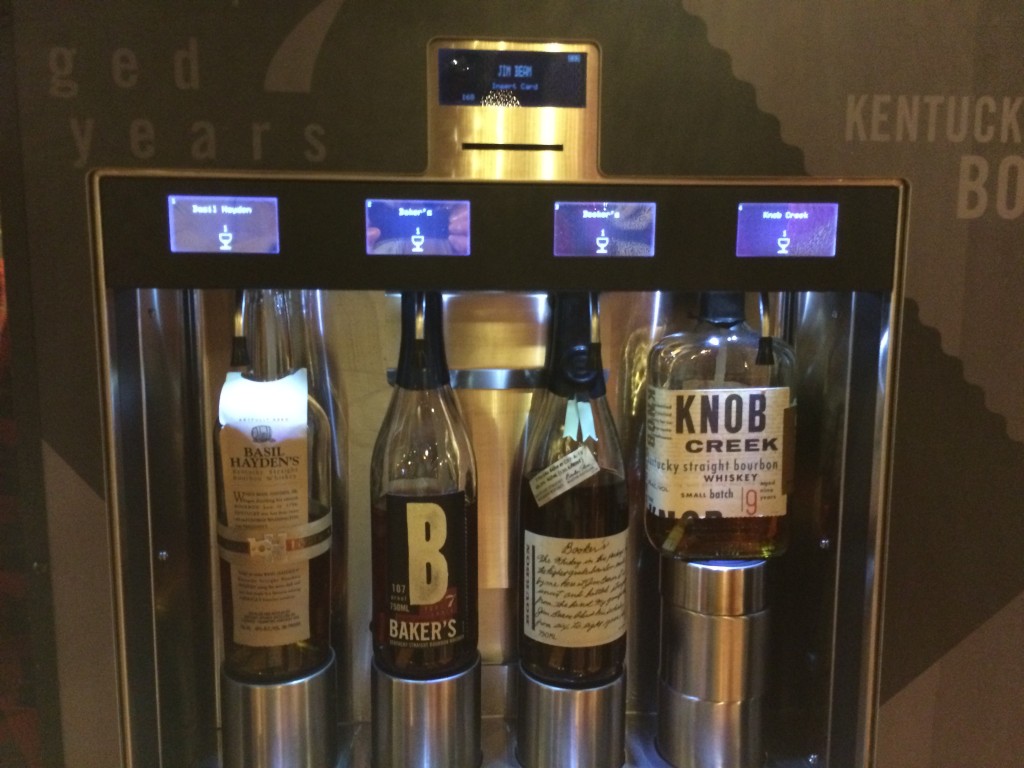 All manner of Jim Beam Brand paraphernalia can be had at the gift shop. If you're looking for whiskey, they sell the range of Beam brands (again no Old Grand Dad, Old Overholt or Old Crow). If you want a gift shop exclusive you can get a bottle of Fred Noe's select bourbon which is really just the seven year old white label. However, it's got a different label and Fred selected it so that's something. If you want to drop $200 you can get a Distiller's Masterpiece is a sexy decanter finished in sherry casks.
I was really impressed with the new Beam complex and tour. It's first rate in every way. If you're in the area or even if you might consider making a designated trip then it's worthwhile.
One last note on Beam: There is now "Fred's Smokehouse" open on the grounds where you can get barbeque for lunch. It's staffed by some older Kentucky ladies who are about as sweet as the chocolate bourbon pie. I feel comfortable saying that I am a lover of the "Que" and I appreciate all styles: Dry and wet, Kansas City and Texas, Carolina Mustard and Alabama White. However, I do NOT recommend the Smokehouse. The watery meat, stale buns, and mediocre sauce should be avoided. You can get a much better meal at any number of places down the road in Bardstown.