A new distillery, a new malt, a new day of Advent….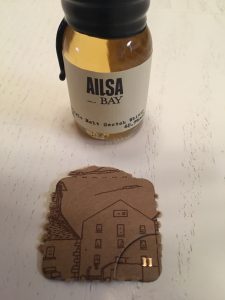 Ailsa Bay Single Malt Scotch Whisky
48.9% ABV
$65
Website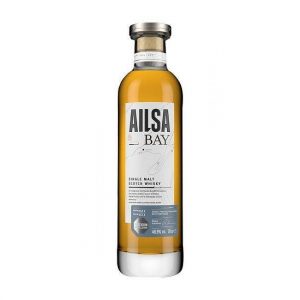 What the Distillery Says
With exacting precision, Ailsa Bay brings whisky-craft and innovation to a new level with its singular vision: The creation of a precision-distilled single malt, perfectly balanced between smoke and sweetness.
PPM: THIS IS THE PRECISE MEASUREMENT OF THE 'PHENOL' CONTENT IN PARTS PER MILLION. THE HIGHER THE 'PHENOL' LEVELS THE MORE 'PEATY' THE WHISKY WILL TASTE. AILSA BAY CONTAINS 21 PPM, WHICH IS ASSESSED PRIOR TO BOTTLING GUARANTEEING A MORE ACCURATE MEASUREMENT.
SPPM: AILSA BAY IS THE FIRST WHISKY TO HAVE AN ANALYSED MEASUREMENT OF SWEETNESS IDENTIFIED. THIS IS POSSIBLE THROUGH A REVOLUTIONARY PROCESS DEFINED BY MASTER BLENDER BRIAN KINSMAN. THE WHISKY IS DEFINED AS HAVING 11 SPPM WITHIN IT, WHICH GIVES IT THE PERFECT BALANCE BETWEEN THE PEAT AND SWEETNESS.
Micro Maturation: AILSA BAY IS ALSO THE ONLY SCOTCH WHISKY TO UNDERGO A PROCESS CALLED 'MICRO MATURATION'. THE DISTILLERY'S NEW MAKE SPIRIT IS FIRST FILLED INTO HUDSON BABY BOURBON CASKS THAT ARE BETWEEN 25-100 LITRES IN SIZE, FOR SIX TO NINE MONTHS. THE RELATIVELY SMALL CASKS – TRADITIONAL AMERICAN OAK BARRELS CAN CONTAIN UP TO 200 LITRES OF SPIRIT – ENABLES INTENSE RAPID MATURATION. THE LIQUID IS THEN TRANSFERRED INTO VIRGIN, FIRST-FILL AND REFILL AMERICAN OAK CASKS FOR SEVERAL YEARS. THE PROCESS IS THE FIRST OF ITS KIND WITHIN THE SCOTCH WHISKY INDUSTRY.
Nose: FRESH WOOD SMOKE WITH NOTES OF SMOULDERING DAMP HEATHER AND AN EXTINGUISHED BONFIRE. FOLLOWING THE SMOKE IS A WAVE OF OAKY SWEETNESS AND HOT BUTTERED TOAST WITH AN INTRIGUING HINT OF CARAMELISED APPLE.
Taste: AN IMMEDIATE PUNCH OF PEAT IS QUICKLY BALANCED BY A BURST OF VANILLA OAKINESS. THE FLAVOUR MEANDERS BETWEEN SMOKE, FRUIT, CREAMY TOFFEE AND BACK AGAIN. WITH EVERY SIP THE COMPLEXITY OF THE WHISKY DEEPENS AS LAYER UPON LAYER OF FLAVOUR IS REVEALED.
Finish: AN INTRIGUING BALANCE OF OAKY SWEETNESS AND PEATY DRYNESS.
What Richard Says
Nose: A lovely light floral smokiness. Like burning heather or dried wildflowers in a campfire wrapped in a warm nuttiness.
Palate: A rich sweetness playing with that peat smoke. Fruit preserves, amaretto, and vanilla bring the sweetness.
Finish: Short and a bit hot with the heat coming from Big Red chewing gum cinnamon.
Comments: Described as "peat and sweetness" I think that is very apt. Damn, this is a fine dram. The only shortcomings I find are the heat on the finish which tells the tail of small barrel. Even though it was only used partially in the aging process you just can't seem to undo that. The closest dram I can think of would be the Cask Strength Compass Box Peat Monster. There's no Ailsa there but the interplay of sweet and smokey is very similar.
Rating: Stands Out