A classic from Diageo and Cardhu on the 8th day of Advent…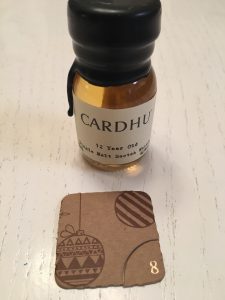 Cardhu Single Malt Scotch Whisky 12 Years Old
40% ABV
$50
Website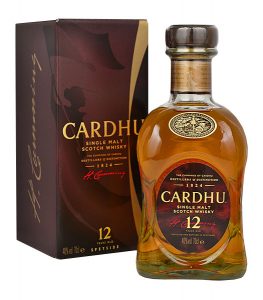 What the Distillery Says
Nose: At full strength, heady, nose prickle, pear drops and tightly integrated heather, resin and sweet honey-nut notes. Enticing. Intriguing. With a little water, still harmonious but less pronounced, allowing some malt cereal, soft, spicy wood, moorland and faint traces of wood-smoke to appear.
Palate: Well balanced, smooth mouthfeel; short punch, sweet and fresh, then a pronounced drying effect. Moorish. Enjoyable at any time, with little or no water.
Finish: Quite short. Some lingering sweet smoke in the attractive, drying aftertaste.
What Richard Says
Nose: Malty and nutty with honey sweetness.
Palate: Wildflower honey, lightly smoky, orange marmalade, sweet nuts, and creamy vanilla.
Finish: Floral and spicy laid on a woody base.
Comments: Cardhu was hard to come by for a while. It was a huge seller in Spain but the decline in their consumption made it more available. Most Cardhu goes into Johnnie Walker blends but more expression are being made available as a single malt. The 12 Year Old is a great introduction to the distillery.
Rating: On the better side of Average