Trail's End Crafted with 8 Year Old Kentucky Straight Bourbon Whiskey and Finished with Oregon Oak
Batch 002
45% ABV
$36
Website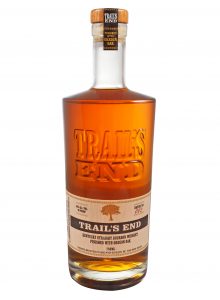 What the Bottle Says
Trail's End® is an ultra-premium, Kentucky Straight Bourbon Whiskey finished with Oregon Oak. Crafted using premium barrels of Kentucky straight bourbon, Trail's End traveled along the treacherous terrain from Kentucky to Oregon, following the path that Lewis and Clark once blazed. Not too far from the end of the Oregon Trail, our bourbon is finished with Oregon Oak and the result is exceptional!
Smell the aroma of floral honeysuckle, apricot, spearmint and orange blossom with roasted hazelnut and traces of cereal sweetness and chocolate. Next, take a sip and enjoy the smooth sweet malt and chocolate flavor bolstered by toasted hazelnut with notes of tobacco and a touch of rye. Lastly, savor the long and warm finish, oily and buttery with a lovely malt spice kick and slight char note.
To the Explorer in All of Us!
What Gary Says
Nose: Sweet but sharp, oaky cinnamon with vanilla crème brulee dusted with allspice.
Palate: Almost creamy mouthfeel with sweet vanilla honey and some earthy/oaky spice; cinnamon red hots near the end.
Finish: Moderately long and dry with a slight bite at the end.
Comments: A bit more oak than you'd expect for an 8 year old bourbon but not too oaky (although getting close for my taste), although you have to keep in mind that being finished in new oak after aging for 8 years is going to make it more oak forward. The finishing gives it a unique earthiness that I think is interesting; gives it a sharp edge that emphasizes a rye kick.
Rating: Stands Out
What Richard Says
Nose: Caramel, under cooked toffee, vanilla bean ice cream, and a bit of mint.
Palate: Straight up rye bourbon goodness. It presents in a vanilla, honey, and caramel sweetness with nutty undertones. But then you get a kick in the mouth. The rye spice and oak are aggressive to the point of being rough.
Finish: The finish is big doses of aged tobacco, cocoa powder, and mint.
Comments: To be clear, this is 8 year old Kentucky straight bourbon. It spent a little time in some Oregon oak and was cut with local water but it's Kentucky bourbon. I mention this, not to dispute the bottling classification, but rather to make the point that if you don't like bourbon, you won't like this. It is not some super special and unique Oregon whiskey unlike all others. It presents like an 8-ish year old rye forward bourbon. However, the aggressiveness of the palate is something of which you should be aware. For a 90 proofer, it drinks like a 110-120. Not in terms of mouthfeel or fullness but in terms of heat. I do commend the pricing. For sub-$40 it's worth taking a gamble on a bottle. You find that it is right up your alley.
Rating: Average
We would like to thank Hood River Distillers for sending us a bottle to review.