McCarthy's Oregon Sing Malt Pot Distilled Whiskey
Batch W16-02
42.5% ABV
$50
Website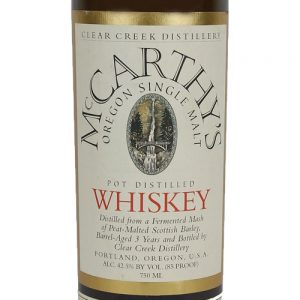 What the Distillery Says
McCarthy's® Oregon Single Malt Whiskey is distilled in a Holstein pot still using one pass distillation. This premium, non-chill filtered product is then barrel-aged in air-dried Oregon Oak barrels. The result is remarkably smooth for a 3-year-old whiskey.
What Gary Says
Pending
What Richard Says
Nose: An interesting mix of delicate peat, wet pine needles, and campfire smoke.
Palate: A rich honeyed sweetness intermingled with an authoritative peat and pine straw.
Finish: The finish is lingering smokiness, cracked pepper, and a bitter tinge.
Comments: "Oregon Pot Still Whiskey", what the hell is that? This is easiest to describe as an American version of Laphroaig 10 Year. It tastes A LOT like that. The fact that this is only three years old really blows me away. Fans of smoky Scotch should really give this one a try. It is incredibly impressive.
Rating: Must Try
We would like to thank Hood River Distillers for sending us a bottle for review.