Glencadam The Re-Awakening 13 Year Old Highland Single Malt Scoth Whisky
46% ABV
$65
Website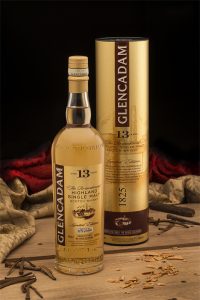 What the Distillery Says
Glencadam Distillery opened in 1825 and since then little has changed.
Glencadam Distillery proudly announces the release of a rare 13 year old expression.
Rare because in the Autumn of the year 2000, Glencadam distillery fell silent. This silence became a deep sleep for three years until its joyous "Re-Awakening" in the Autumn of 2003. This rare, 13 years old limited edition from the re-start of distillation truly represents and commemorates "The Re-Awakening" of Glencadam Highland Single Malt Scotch Whisky.
What Gary Says
Nose: Bright herbal sweetness with a hint of citrus (lime zest), bit of smoke and anise.
Palate: Nice creamy mouthfeel, fruity sweetness (figs, dates, pears, bit of nectarines) and vanilla spice; hint of oak with pepper.
Finish: Moderately long and wet, soft to start with a spicy build up.
Comments: I've never had any Glencadam before, but this certainly won't be my last. This is a very nice single malt. The nose is nice, although not special – but the palate was a pleasant surprise. It isn't overly complex, but nicely balanced and quite drinkable. I appreciate this being offered as non-chill filtered without coloring being added (as well as the 92 proof versus 80).
Rating: Stands Out
What Richard Says
Nose: Brooding on the nose. Malt forward with notes of under ripe apples, hay, and wildflowers.
Palate: The palate is very assertive. Baklava and baked apple dumplings interplay with a bit of Vegemite and fall leaves.
Finish: Woody, minty, and grassy.
Comments: This is now slouch of a malt. The higher proof and lack of chill filtration are worn very well on this whisky. This a great example of a well formed highland single malt. It's a bit like a Glenmorangie that has been aggressively hitting the gym and coming out a monster.
Rating: Stands Out
We would like to thank Glencadam for sending us a sample to review.