Jack Daniel's Tennessee Straight Rye Whiskey
45% ABV
$25-$30
Website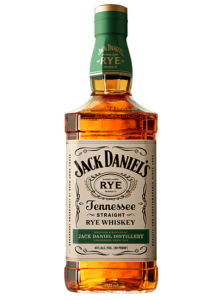 What the Distillery Says
Introducing rye whiskey made Jack's way. Crafted with our 70-percent rye grain bill, natural spring water from our own Cave Spring Hollow, and Jack's time-honored charcoal mellowing process, Jack Daniel's Tennessee Rye is a whiskey that could only come from Lynchburg, Tennessee. Master Distiller Jeff Arnett and the whiskey makers of the Jack Daniel Distillery have created a unique rye that's undeniably spicy and complex yet sippin' smooth. It might be one of our first new recipes in over 150-years, but if you know Jack, you'll know Jack Daniel's Tennessee Rye.
70% RYE GRAIN BILL
CHARCOAL MELLOWED
A BOLD BALANCE OF SPICE & SMOOTHNESS
What Gary Says
Pending
What Richard Says
Nose: Upon first pour a spicy, slightly musty acetone note is predominant. A little more air time and more minty and peppery smells peek through with hint of banana liqueur and vanilla. Water opens the nose up to a delicious banana cream pie.
Palate: Nice kick. You can definitely tell it's made by Mr. Arnett in Lynchburg but with a solid rye twang. Black and white pepper, warm rye bread, and grassy with a light banana bread sweetness.
Finish: It lingers with a black pepper dusting around the sides of the tongue and back of the mouth.
Comments: Certain distilleries have a relatively consistent note that rings true throughout nearly all of their products. At George Dickel it's a chewable kids vitamin kind of thing. At Jim Beam there is a peanut like funk to their products. At Jack Daniels it is bananas. I'm not a chemist or olfactory scientist to know what causes that but I think that since I also find it distinctively in their Rye that it must me the yeast they use in the mash. I think the charcoal mellowing actually brings it forward more as it filters out other things. This rye makes me happy. It's not a "HOLY SHIT" rye or anything. But it is a solid new product from a long established distiller at a reasonable price. I would happily keep Jack Daniel's rye in my house for cocktails and the occasional sip. It's not a deep contemplative rye. It's just solid. And in a sea of MGP rye rebottlings from "craft" producers it's nice to have another sub $30 rye option that tastes different. Add it to the stable with Rittenhouse, Wild Turkey Rye, and Jim Beam Rye. Kudos Brown Forman. You did this one right!
Rating: Stands Out
We would like to thank Jack Daniel's for sending us a sample to review.