The Glenrothes Speyside Single Malt Scotch Whisky
Distilled in 1985, Bottled in 2005
43% ABV
$120
Website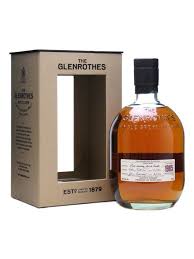 What the Distillery Says
Talk about bounce-backability. We first released the 1985 Vintage in 1997. It was popular then for its aromatic spicyness. Our master blender, John Ramsay, has now agreed that the last remaining drops of this Vintage be vatted and bottled for the latest version of this great Vintage. The memories of the previous bottling are present but the benefit of additional years has increased the complexity and perhaps delicacy of this deliciously oaky-honeyed dram. From an afternoon dram this has turned into an evening delight. A classic to accompany many puddings and thereafter.
Appearance: Golden, clear and bright.
Bouquet: Rich, fruity, raisins and sultanas
Palate: Soft, smooth, oak, vanilla and sultanas.
Finish: Good length, medium sweet finish.
What Richard Says
Nose: Fresh cut grass, orange peel, lemon zest, and malt.
Palate: Surprisingly rich and creamy given the 86 proof. There is a great interplay between a vanilla, raisin, and poached pear sweetness and an oak/pepper spiciness.
Finish: Long with heaps of malt, pepper spice, dark chocolate, and grassy notes.
Comments: This is a fine example of a 20ish year old Speysider. It drinks easy and is very enjoyable. It's not really a stunner but a fine dram all the same. Buy a glass and you won't be disappointed but a whole bottle might be hit or miss for some.
Rating: Stands Out