Lot No. 40 Single Copper Pot Still Canadian Whisky (1990s version)
43 % ABV
$30
Website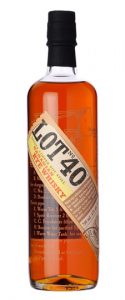 What the Distillery Says
Lot No. 40 is expertly distilled in small batches using only the finest locally sourced ingredients. By distilling in a single copper pot still, the result is a whisky that starts off earthy and woody tasting and then becomes full bodied and complex with a velvety vanilla oak finish.
What Gary Says
Nose: Tobacco leaves, subtle sherry & molasses sweetness with malty undertones, baking bread in a funky/musty kitchen, hints of dried herbs.
Palate: Herbal and vegetal notes, sweet rye bread, malty fruit cake, hints of a black tea with raisins and kiwi.
Finish: On the short side, slightly drying w/ some pepper spice hitting.
Comments: This is an odd whiskey, but in a good way. I liked it immediately because it was so different than anything I had tried before. If someone had given me this blind and asked what I thought it was, my guess would have been some type of funky single malt Scotch rather than a Canadian rye. There is a prominent maltiness throughout, but the rye isn't lost – just different from American Rye whiskey (not as sharp and peppery). A very unique whiskey. Unfortunately the uniqueness makes it hard for me to recommend it, as I'm never sure what someone will think. But I'd recommend trying it if only to see what you think. If you're not the adventurous type – maybe don't bother, as this won't fit neatly into another category.
Rating: Stands Out/Must Try
What Richard Says
Nose: Sweetly herbal, notes of aged tobacco, molasses, mint, and stewed stone fruits.
Palate: Creamy, rich, and viscous. Tons of dark fruit, pepper, mint, and orange liqueur.
Finish: Rye spicy with mint, anise, and cinnamon.
Comments: When you hear talk about the "great Canadian whisky" being hoarded north of the border this is the kind of thing they are talking about. This has tremendous richness and depth compared to the vast majority of Canadian whisky. Truly stunning in it's original form but sadly the subsequent versions don't hold a candle to the original.
Rating: Must Try