Lot No. 40 Copper Pot Still Canadian Whisky (2012 version)
43 % ABV
$40
Website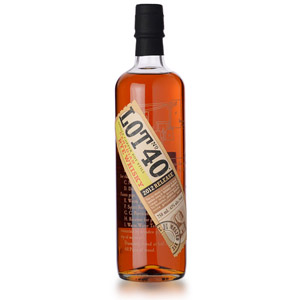 What the Distillery Says
Lot No. 40 is expertly distilled in small batches using only the finest locally sourced ingredients. By distilling in a single copper pot still, the result is a whisky that starts off earthy and woody tasting and then becomes full bodied and complex with a velvety vanilla oak finish.
What Gary Says
Nose: Sweet, malty, dried grass/hay, bright with subtle sweetness and dark druit, hint of toasted marshmallow and maple syrup (and could be my imagination, but beer?).
Palate: Sweet entry with a silky mouthfeel, soft, smooth, subtle grapefruit (without the acid bite) and a malty note.
Finish: Short and forgettable, drying, bit of citrus at the end.
Comments: The first taste of this, I did a blind side-by-side against the dusty 1990s version of Lot 40. I found them considerably different (even asked my wife, who isn't a whiskey drinker, if she thought they smelled similar; she didn't). Calling that out only because if you've had the older version and are expecting this to be a new release of the same thing – don't. I've read other reviews that found them to be similar, so could just be me – but while there is a faint familial string between them; I wouldn't confuse them for one another on a bad day. That aside, this is an interesting whisky. I'm not a beer drinker, but each time I tried this – that is what triggered in my brain: Beer (not that the whiskey itself tastes LIKE beer, but something on the nose and palate have faint ties to beer that I can't quite explain). While I don't like beer, it wasn't a negative note – just odd (as I can't recall getting that from another whiskey – at least any North American's whiskey!) For the price, unless you're really into funky ryes, I'd definitely look to try it before you buy it.
Rating: Stands Out
What Richard Says
Nose: Malty with a heavy creamy vanilla sweetness. Wildflower honey.
Palate: More creamy vanilla sweetness pushing to the forefront with a bit of white pepper biting around the edges and a dusting of fresh grated nutmeg. The more I ruminate on this whiskey what comes to mind is a lovely ginger and peach preserve that I found at this local shop on the west side of Atlanta.
Finish: Moderate in length and woody. The pepper notes, black and white this time, linger with a milky creaminess that reminds of the finish of really cold organic skim milk.
Comments: Yummy. I don't like this one quite as much as the original but it still has a tremendous amount to offer. It lacks some of the richness of the 90's original but I think fans of many different whiskey styles will find something here that they like. Definitely get a hold of one of these if you get the chance!
Rating: Must Try