Black Bottle Blended Scotch Whisky
40% ABV
$25
Website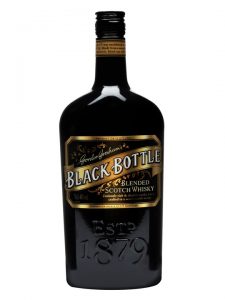 What the Blender Says
Nose: Fresh and floral with freshly sawn oak aromas. Spicy with hints of smoke.
Palate: Silky, mellow and fruity with balanced smoky / peaty flavours then sweet oak and heather honey.
Finish: Soft, elegantly spicy, nutmeg, pepper and a gentle lingering smokiness.
What Richard Says
Nose: The nose is a bit of a ruffian with a rough and meaty structure to it.
Palate: Creamy and smooth with the sweetness of a wildflower honey watered down for bar use. The honey sweetness is augmented by notes of apricots and peaches with a light handed layering of smokiness.
Finish: This finishes with just a dusting of pepper and smoke wrapped around a licorice core.
Comments: Black Bottle is a lovely fellow. It is easy drinking on the smokier side. It works well as an inexpensive table dram or a nice subtle introduction to smokier whiskies.
Rating: Stands Out