Forty Creek Confederation Oak Reserve Canadian Whisky
40% ABV
$65
Website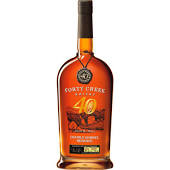 What the Distillery Says:
Notes from John Hall, Whisky Maker
I have worked with many types of oak barrels, first as a wine maker and then as a whisky maker. Every wood, whether it is from a bourbon barrel, port barrel, sherry cask, French, Balkan or American oak, creates a distinctive taste expression. As a proud Canadian whisky maker, I have always been curious what a Canadian whisky would taste like aged in a Canadian oak barrel, because most Canadian whiskies are aged in American oak.
To my delight, I discovered some massive Canadian white oak trees that were growing only 40 miles from the distillery! They must have started growing just before Confederation in 1867 because they were 4 feet in diameter and over 150 years old. The selected trees were harvested from a sustainably managed forest employing the principle of "no tree before its time." This forest has a mixture of young trees coming up in the understory, mature trees in full productive vigor, and old trees whose growth has slowed. These older trees block sunlight and rainfall from the younger trees and when over-matured, need to be removed.
I thought I could give them a second career as whisky barrels. Canadian and American white oak trees are the same species. However, the cooler growing conditions in Canada result in slower growing trees that are more dense than their American counterparts. Consequently, the aromas and flavour profiles of Canadian oak are very different due to the Canadian terroir.
This is truly an iconic whisky. Canadian whisky, aged in Canadian oak barrels, harvested from trees that first rooted themselves in Canadian soil 150 years ago during Confederation.
Tasting Notes
Forty Creek Confederation Oak is the colour of old gold and is a very full bodied whisky. To the nose it is a big whisky with constantly evolving aromas and flavours. Beginning with a maple-raisin-vanilla-fig, layers of praline, banana, butter cream, honeyed nuts, marzipan, spice and orange blossoms. As it lingers, dark dried fruits and anise evolve. On the palate it has a very rich entry; soft, round and dry. Full bodied with vanilla, butter cream and pepper spice which is nicely framed with oak, walnut and smoke. An exceptional finish that has great depth. A long lingering finish with fading spice and white pepper. Excellent balance and vibrant flavour. A whisky to sip and cherish.
What Gary Says:
Nose: Soft, mellow Canadian maple syrup, fall leaves, faint apricots, plum wine.
Palate: Maple glazed donut with crumbles of praline pecans, mouthfeel is a tad thin.
Finish: Moderately long, with a bit of spice at the end.
Comments: I like sweet whisky, but this might be a bit too much sweet (definitely on the cusp for my personal taste). With the background all about the oak, I didn't pick up much oak or spice – although full disclosure, I haven't had a lot of experience with whisky aged in cooperage from really old trees. Maybe it is the Canadian oak that is just a different beast. Nothing off-putting about this pour (unless you're not a fan of big sweetness), but nothing that stood out to me as particularly special. I'd be curious what this taste like at a higher proof, but I feel like I could say that about pretty much every 80 proof pour I taste (maybe the oak spice doesn't get lost in the sweetness?)
Rating: Average
What Richard Says:
Nose: Bland and alcohol forward which is very odd given the 80 proof nature of the whiskey. It opens up with a bit time and water to fresh cut hay and fruit salad but there is a weird chemical-like note hanging way in the back.
Palate: Thank goodness this tastes better than it smells. It has a great creamy texture to it with gobs of vanilla cream filling (Boston Cream donuts) and poached stone fruit (pears and apricots) all drizzled with honey.
Finish: A bit dry and bitter. I was really hoping that some of the sweeter elements of the palate would linger a bit.
Comments: I really like the standard Barrel Select version of Forty Creek but I'm having a hard time liking this one. I really wish I had a chance to taste the original version back in 2010. My bottle is a later batch from 2015. This tastes very nice and it is easy to drink but the smell and finish are rough to get around. At $65 a bottle it's rough to recommend buying one.
Rating: Average