Green Spot Château Léoville Barton Single Pot Still Irish Whiskey Finished in Bordeaux Wine Casks
46% ABV
$65
Website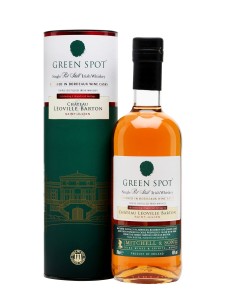 What the Distillery Says:
Château Leoville Barton is hte latest addition to the Spot whiskey family. This whiskey represents the coming together of two historic families, two stories of Irish endeavor and enterprise who together are the inspiration for this special edition whiskey.
Initially matured in a traditional mix of ex-Oloroso sherry and ex-Bourbon barrels the whiskeys were then transferred into the ex-Bordeaux wine casks for between 12 and 24 months. This imparted distinctive, floral flavors of varying intensity, resulting in a perfectly balanced whiskey. Celebrating an Irish heritage, the collaboration between Green Spot and Château Leoville Barton is not just the coming together of two unique stories; it is the fusion of two unique histories that as one deliver an exceptional whiskey.
Nose: It is the contribution of the French oak which drives the initial aroma adding some crisp woodland notes to the spicy Single Pot Still character. The wine seasoning brings a delicate touch of floral perfume and a hint of ripe berries such as raspberries and strawberries; these are in addition to the orchard fruits typical of Green Spot.
Taste: The familiar mouth coating effect is a very satisfying balance of oak and spices. Some vanilla sweetness works in harmony with the dry wine influence, while the fresh orchard fruits and French oak combine effortlessly with barley grains to complete the complexity.
Finish: The rich French oak character is slow to fade leaving the wine and spices of France and Ireland with the last word.
What Richard Says:
Nose: Crisp apples, green grapes, wine tannins, and cedar wood.
Palate: Wet toothpicks, black pepper, orange blossoms, and a nice vanilla cream sprinkled on Granny Smith apples and peaches.
Finish: Tannic with lingering black pepper.
Comments: As I've shared this whiskey with others it tends to be polarizing. Those that drink a fair amount of Irish don't like it as much as those that are relatively new to the spirit. I like it okay but it doesn't stun me like Yellow Spot and the Redbreasts do. It is a nice diversion from the regular but not something that I would go out of my way to seek out.
Rating: Stands Out