Glendalough Single Malt Irish Whiskey Aged 7 Years
46% ABV
$50
Website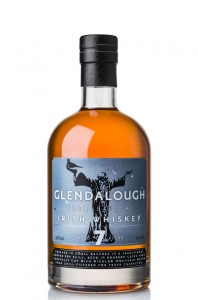 What the Bottler Says:
The 7 seas bridge 7 continents that some say were made in 7 days. Even the light we see them in splits into 7. It's the world's favourite number and some say, a lucky one. But that's not why we've released the first of our single malts as a 7 year old. Here at the Glendalough Distillery, we're not superstitious, we find it brings bad luck.
As ever it's all about the man on our bottle, St Kevin. Before he built his "City of 7 Churches" at Glendalough, Kevin spent 7 savage years in the wilderness. You see the number 7 has always been associated with the seekers, the thinkers and the searchers of truth. St Kevin was all of these and more.
He lived off the land around the upper lake, completely at one with nature, he was the kind of outdoorsman that'd put some of today's action-men to shame. Tested through 7 sharp winters and inspired by the blush of 7 summers, it shaped him to be the man we revere. This whiskey was made in the traditional style its character shaped by 7 years.
Have a look on our bottle, you'll see 7 silver crosses. These will lead you to each of the 7 churches, should you ever be stirred into going to Glendalough.
TASTING NOTES:
The nose is rich and sweet, a premium single malt Irish whiskey with a touch of cinnamon and more than a hint of citrus fruits – orange zest, lemon infused with vanilla ice cream. A touch of fresh floral notes like meadow flowers.
The taste. A silky velvety smooth palate with the returning orange zest tones to the fore, with rich creme brulee and dark chocolate notes
and just enough cinnamon and white pepper spice to keep it interesting, followed by the beautiful robust malt and oak influenced flavours, almost butterscotch, which mix wonderfully as the warmth expands through.
The finish is luxurious and lingering, the spicy, sweet notes elegantly marry on the finish and stay an eternity. Everything you'd expect from the perfect sipping whiskey.
What Richard Says:
Nose: Raisins, orange marmalade, peach preserves, and a crispness that reminds me of a mix of fresh split hardwood and dewy grass.
Palate: The palate is a bit of a struggle between a stone fruit sweetness (peaches and apricots), a cinnamon and pepper spiciness (Red Hots sprinkled with black pepper), and woody bitterness.
Finish: The finish is slightly hot but a bit of water will tame it. The lingering notes are cayenne pepper, mild tobacco, and bitter wood.
Comments: This is a fun dram to play around with. There is a lot going on and layers to unravel if you find yourself in a contemplative mood. The only detraction for me is that the different parts of the palate just don't seem to bring themselves together as cohesively as I would like. Even still, this is a nice pour. The flavors and proof bring more to the table than like priced Irish competitors. Glendalough doesn't say where this whiskey comes from. They are laying down whiskey and distilling gin and poitin too but this and the 13 year old are too old to have been distilled there. My guess would be Cooley. That's not a bad thing at all. We in the States have been raising hell about bottlers pseudo pretending to have distilled spirits but it hasn't hit that fervor level in Ireland yet. Regardless of who distilled the spirit it is good. Oddly enough, I've enjoyed the Cooley spirits bottled by others like Glendalough and Teeling a lot more than I ever cared for Cooley's bottlings. So give this one a try when you see it.
Rating: Stands Out
We would like to thank Glendalough for sending us a bottle to review.