Glendalough Single Malt Irish Whiskey Aged 13 Years
46% ABV
$90
Website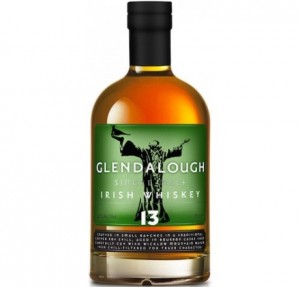 What the Bottler Says:
While we're talking numbers and lucky numbers… Did you know 13 is Ireland's luckiest number? For us it means a glimpse at Ireland's heroic age, a new golden age and a perfect age for an Irish single malt whiskey. This very special whiskey herald's a second coming of Irish single malt that's been a long time coming. After almost a century of blends defining Irish whiskey, Glendalough brings you a 13 year old single malt that has put in the hard yards. The style of whiskey that first made Irish whiskey great. The style of whiskey your great grandad drank. And a stylish whiskey whose time to be great is once again. It comes to you with hints of spice, creamy vanilla, biscuity malts, and that unmistakable clout of dedication that embodies the outstanding spirit of Ireland.
TASTING NOTES:
The nose is deep butterscotch, honeycomb and rich lemon meringue balanced with citrus fruits and just a hint of a clove spice.
The taste. Jumps to the front with an intense vanilla fudge luxurious sweetness and almost rock candy mixed with touches of fruit – lemon citrus, peach and dried apricot.
This is followed by deep spices; red peppercorn and light cloves. A truly velvety mouth feel that just hovers on the palate.
The finish. The spice is left lingering with under-layers of robust malt characteristics and deep oak notes. And again vanilla fudge reoccurs with a finish that lasts an eternity.
What Richard Says:
Nose: Rich, with dark notes of stewed cherries, raisins, cinnamon, and caramel.
Palate: The flavors are very forwardly sweet. Heavily sugared dark chocolate covering a chocolate orange.
Finish: The finish is a mid length with vanilla cream and polished oak.
Comments: Wow, I'm really impressed with this offering. $90 a bottle is steep for the age but Irish Distillers' offerings in that age range are all near that price point. I find this to be a very interesting and pleasing offering from Glendalough's sourced whiskey stock and something that you should try if you are an Irish whiskey fan.
Rating: Must Try
We would like to thank Glendalough for sending us a bottle for review.