Stolen Smoked Rum
42% ABV
$20
Website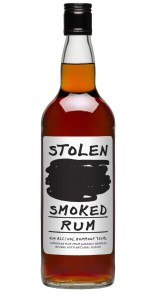 What the Bottler Says:
STOLEN is proud to introduce the World's First Smoked Rum… the result of an artisanal approach fueled by the desire to reinvent the rum category.
We start with a column-distilled rum from Trinidad, made from locally sourced sugar cane and molasses. The rum is then aged for up to 2 years in used American oak whiskey barrels. Capturing the essence of a fresh brewed cup of joe, we infuse the rum using re-fractionated Colombian Arabica coffee, wholly distilled from same-day roasted beans. The warm, roasted flavor is complemented by the creamy sweetness and velvety texture of premium Madagascan vanilla beans and Moroccan fenugreek. The rum is rounded off with notes of American hardwood, acquired through a smoking process called pyrolysis—the burning of hardwood in the absence of oxygen.
The finished product is a smooth, medium body rum with a generous bouquet. On the palate, the deep profile of coffee, vanilla, warm caramel and dark chocolate mix with lingering notes of charred oak for a long, smooth, smoky finish.
What Richard Says:
Nose: Rich sweet notes of coffee, vanilla extract, milk chocolate, and a hint of campfire smoke.
Palate: Rum or coffee liqueur? This is pretty damn similar to Kahlua mixed with Bailey's Irish Cream.
Finish: The finish is a little hot and presents lots of espresso powder, cocoa powder, and charcoal grill smoke.
Comments: This is one of the more interesting things to come across the Whisk(e)y Apostle desk in recent months. However, there has been so much done to this spirit through the "pyrolysis" and "re-fractionated" infusion process that this seems like rum in name only. This would be better served as a Kahlua substitute given the highly pronounced coffee notes.
Rating: Probably Pass
We would like to thank Stolen Spirits for sending us samples to review.