Jose Cuervo Reserva De La Familia Tequila
40% ABV
$130
Website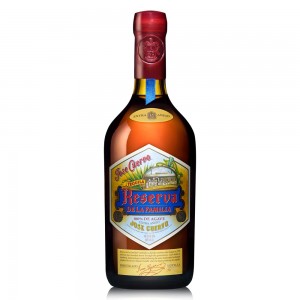 What the Distillery Says:
Reserva de la Familia® is the world's first extra-añejo tequila. It is hand selected from the Cuervo® family's private collection. Each bottle is made using only blue agave harvested at its peak maturity after seven to twelve years of growing in the field, and aged in French and American oak barrels for a minimum of three years. Reserva de la Familia® is best served in a snifter, allowing for full appreciation of its flavors, aroma, and velvety finish.
What Richard Says:
Nose: There is a backbone of subtle agave that you can smell but it is layered under ripe citrus and stone fruit notes.
Palate: A rich delicate sweetness rolls over the tongue reminding me of (duh) agave nectar, orange zest, and pumpkin pie spice.
Finish: The finish is very clean and refreshing with an almost minty woody undertone.
Comments: I don't like tequila. I'm a master of all I survey when it comes to drinking whiskey but tequila has whipped my ass on too many occasions. I don't know that I've ever really "sipped" tequila. The remaining occasional imbibing I still do is usually a margarita in summer. So when Cuervo offered to send over samples of this I didn't exactly say no but I wasn't particularly encouraging them either. After spending some time with the Reserva De La Familia I'm left wowed. This is fantastic. There is the slightest note of agave to hint at this being tequila but it is a lovely drink and nothing like tequilas I've had before. Again, I'm not a tequila expert so there may be better out there but this is best I've had. Whiskey and brandy drinkers should give this a try. Tequila drinkers should run out and buy a bottle right now.
Rating: Must Buy
We would like to that Jose Cuervo for sending us samples to review.