Glen Scotia Double Cask Single Malt Scotch Whisky
46% ABV
$70
Website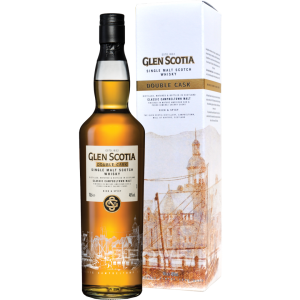 What the Distillery Says:
Our Double Cask is matured in our finest oak barrels then finished in a combination of first fill bourbon barrels followed by time in Pedro Ximenez sherry casks to produce this outstanding malt whisky that provides the perfect balance of rich spicy fruits, overlaid with the characteristic sea spray and vanilla oak finish for which the house of Glen Scotia is famous.
NOSE Amber. Very sweet. Initially it is all creme caramel, caramelised fruit sugars, wood sugar, toffee and fudge before some apple and peach come through. In time a charred note of bourbon with a pleasing dusty dryness. Has some power.
PALATE Sweet start and quite fat and though the alcohol gives a little tongue-tingling buzz the result is a good mid-palate weight. The dry distillery character is there still, but there is now depth to counter. Water slightly dismantles the different elements, but adds some dried mint.
FINISH Deep and dark.
What Richard Says:
Nose: The nose is very sherry forward. It reminds me more of an Oloroso than the Pedro Ximenez that they use. Raisins, stewed fruits, and creme brulee come to mind.
Palate: There is a very nice creamy viscosity to this one. More deep sherry notes, dark fruits, and vanilla extract.
Finish: Cracked pepper, polished wood, and a nice mint note carry this out to a medium length finish.
Comments: I am a bit of a NAS-hater (no age statement whiskies). I find their proliferation displeasing and the whisky in said bottles usually disappointing and overpriced. However, every so often I get surprised. Maybe it is my low expectations or the skill of the blender. Either way, these exceptions are few and far between. While this Double Cask Glen Scotia isn't awe inspiring, it is a very solid well made dram and I enjoy it. It definitely stands out among NAS single malts. $70 is a bit steep for the bottle though. If it was sub $50 it would be a real winner.
Rating: Stands Out
We would like to thank the Loch Lomond Group for sending us a bottle to review.