Glen Grant Single Malt Scotch Whisky Aged 18 Years
43% ABV
$120
Website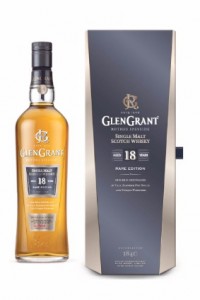 What the Distillery Says:
This unrivaled single malt matures for at least 18 years in the highest quality, handpicked oak casks, which creates a radiant golden colour and seductive floral and oaky aroma.
Deeply layered and complex, this rich and vibrant whisky delivers beautifully intricate flavours of malted caramel, vanilla, and raisins and lingers with a long, sweet, and pleasantly spicy finish.
Tasting notes
Colour: Bright Gold
Aroma: Rich and floral with oaky overtones and hints of baking spices
Taste: Malty caramel, delicate, dried raisins and vanilla
Finish: Long, sweet with hints of nuts and spice
What Richard Says:
Nose: Grassy and straw-like with floral and crisp apple notes. In the background is a hint of treacle with honey and citrus rind.
Palate: Fresh malted grains and fresh cut hay drizzled with vanilla extract. There is also a light sweetness around the edges but it isn't a forward sweetness at all. A little too delicate
Finish: The finish has some legs to it but it's dancing out woody and slightly peppery.
Comments: This one just didn't do it for me. It wasn't firing on all cylinders. The elements were light to the point of being barely there. If it only had a more buttery flavor and texture then I would've thought it was a grain whisky but not an exceptional one.
Rating: Probably Pass
We would like to thank Glen Grant for sending us a sample to review.