Clyde May's Straight Bourbon Whiskey
Batch No. CM-079, Recipe No. 2
46% ABV
$40
Website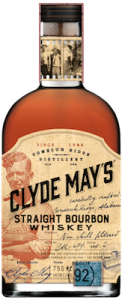 What the Bottler Says:
Clyde May was moonshiner by trade but a craftsman by heart. He made his famous whiskey in hand-built copper stills, with fresh Alabama spring water and the finest local ingredients. The man was locked up for his passion — eight months in the federal penitentiary — yet he started up those copper stills the day he got out.
This straight bourbon honers Clyde's dedication to the craft. We use simple ingredients and a patient aging process to produce a fine, easy-drinking spirit. Like Clyde's own moonshine, it's a whiskey with integrity. Straightforward, porch-siting, rocking chair bourbon — and this time, it's perfectly legal.
On the nose its soft with aromas of brown sugar, baked apricot, wild strawberry & nutmeg. Palate is wonderfully soft with complex aromas of barrel spice, fruit and oiled leather. Finish is long & complete. Best sipped neat, on the rocks or in a carefully crafted cocktail with integrity.
What Richard Says:
Nose: It smells, well…like bourbon. Toffee, vanilla, and cinnamon.
Palate: The extra proof gives it a bit of a creamy, chewy feel that I like. It's more spice and wood forward with notes of more cinnamon, vanilla, barrel char, and a bit of old leather.
Finish: The finish is dry and woody with black peppercorns around the edges.
Comments: There is no disclosure on how old this Kentucky sourced bourbon is but it is surprisingly woody for what I would otherwise think is a middle aged (6ish years) bourbon. It doesn't particularly stand out. It's in the vein of an Elijah Craig small batch, Old Forester, or Jim Beam Black. Not offensive in anyway but not particularly notable. A solid utility bourbon (featured in my chocolate pecan pie this year). The cute backstory is really the only thing propping up the extra $15 to $20 you would pay for similar bourbons.
Rating: Average
We would like to thank Clyde May for sending us a bottle to review.