Glen Grant Single Malt Scotch Whiskey Aged 12 Years
43% ABV
$50
Website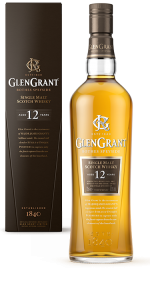 What the Distillery Says:
Glen Grant 12 Year Old is a remarkable single malt.
With a bright, golden colour and pleasant aromas of orchard fruit, almond and citrus, this exceptional whisky delights the palate with exquisite and delicate notes of apple pie crust and caramel, and finishes with lingering fruit and subtle hints of spice.
Tasting notes
Colour: Bright Gold
Aroma: Honey, pear and apple with hints of almond and citrus
Taste: Apple pie crust, caramel and vanilla
Finish: Lingering fruit with subtle hints of spice
What Richard Says:
Nose: This nose is all kinds of light and fruity. That description gets a bit over used but if there was a tasting notes dictionary then this dram would be next to "light and fruity". Sour apple candies, under ripe pears, orange blossom honey, and dew on fresh cut hay.
Palate: The whisky remains crisp and fresh to the taste. Granny Smith apples, vanilla candles, and some sweetness that's like a house made floral infused simple syrup.
Finish: Kind of meh on the finish. It's so light that wasn't really expecting much.
Comments: You know, I really am not a fan of all this recent fancy, trendy new packaging for old whiskey brands. Glen Grant, Elijah Craig, etc. are all under this umbrella. I'm probably too old fashioned but I like the old stodgy packaging. This new sleek and sexy bottle for Glen Grant is just too damn sleek and sexy. I realize I'm in the minority and this rant has nothing to do with the liquid in the bottle but damn it I want dimpled hand blown imperfect glass with papyrus labels pasted on with horse glue. I want OLD!!!
So back to the actual whisky in the bottle…it's okay. This is not a stunner by any means but it's a light easy drinker that would be fine as an aperitif or a daily drinker for fans of the "Three Glens" (Glenlivet, Glenfiddich, Glenmorangie).
Rating: Average
We would like to thank Glen Grant for sending us a bottle to review.