Maker's 46 Cask Strength Kentucky Straight Bourbon Whiskey
55.4% ABV
$40 (per 375ml)
Website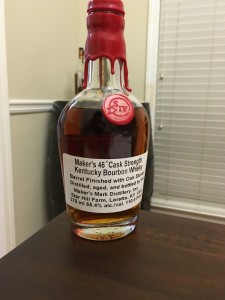 What the Distillery Says:
Right now they don't. Not a peep. This bottling is a distillery gift shop exclusive at this time. This was a similar distribution pattern to Maker's Mark Cask Strength. Let's hope this one goes on to larger distribution too.
What Gary Says:
Nose: Sweet oak, vanilla, lovely baking spices (cloves, cinnamon) over butterscotch.
Palate: Nice rich mouthfeel, warm and sweet caramel with nutmeg and cinnamon, with a hint of fruitcake.
Finish: Moderately long and wet.
Comments: Wow – this is really tasty stuff. I'm not a huge fan of Maker's 46, but this really shines at cask strength. At one sitting while nosing it reminded me of dusty bourbon (that butterscotch note). Much more robust on the nose and palate, and pleasantly spicy without being "sharp". My only complaint is the price. I get that there aren't many cask strength wheated bourbons out there (and one of my favorites – Old Weller Antique 107 – has gotten harder to come by these days), but if this was $50 for a 750 mL – I'd be all over it. At nearly that for half a bottle, I'll absolutely enjoy it when someone else is offering, but not rushing out to pick one up.
Rating: Stands Out / Must Try
What Richard Says:
Nose: Wow this one wears the proof on its sleeve. Water brings out a more woody, vanilla forward nose.
Palate: This is great in the mouth. It's warm and spicy with a dry back sweetness. Dusted with cinnamon and sweetened cocoa powder.
Finish: This finishes a little hot and peppery.
Comments: Yes this is a bit pricey for the half bottle. However, when Maker's Mark Cask Strength first came out it was priced high for a half too. As distribution and demand grew the bottles became full size and the price normalized a bit. Regarding the actual bourbon in the bottle I will say that it is good. I'm always glad to see more wheated and cask strength bourbon on the market. This checks off both of those. However, I do like the regular Maker's Mark Cask Strength more. In a lower proof I prefer the 46 but at cask strength this is more wood dominated. A nice extension of the line but I prefer the other cask strength option.
Rating: Stands Out