Jack Daniel's Silver Select Single Barrel Tennessee Whiskey
50% ABV
$55 to $65
Website


What the Distillery Says:
Bottled in Bond at 100-proof so you can experience the full depth and intensity of its rich flavor. This smooth, aromatic Tennessee Whiskey is only available in select duty-free airports around the world.
Richard's aside: It's worth noting that this is no longer called "Silver Select". Since I bought my bottle Brown Forman has rebranded this edition in conjunction with their other Jack Daniel's single barrel offerings (Single Barrel, Barrel Proof Single Barrel, Single Barrel Rye) and this now "Single Barrel 100 Proof" and carries the "Bottled in Bond" distinction. It's availability in Travel Retail only remains.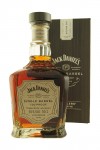 What Gary Says:
Nose: Thick, rich, mellow with raisins, vanilla, caramel honey, and hints of anise, clove (and yes, bananas).
Palate: Rich/sweet fruit (raisins, figs) with a bit of a sharpness, but not as much spice as the nose advertises.
Finish: Short to moderate in length.
Comments: Another that is unmistakably related to its standard bearer, although I thought this several steps up from Old No. 7 (several more so than Jim Beam Bonded is over Jim Beam White Label). Fairly dark whiskey, so at only 100 proof I expect that this either has a few years of extra age on it, or was aged really high up (and maybe both). I think this is my second favorite Jack Daniel's I've ever tried (below the Single Barrel, Barrel Proof). I wish this was more widely available (no mention of it on Jack Daniel's web-site, and from what I can see on-line, this is a travel retail offer only). If you are a fan of Jack Daniels, I think this is hands-down a "must try" (maybe a "must buy", but not sure what the true price tag is). I know if I see one for $60 or less, I'm bringing it home.
Rating: Must Try
What Richard Says:
Nose: Pending
Palate: Pending
Finish: Pending
Comments: Pending
Rating: Pending