The Hilhaven Lodge – A Distinctive Blend of Straight American Whiskeys
40& ABV
$40
Website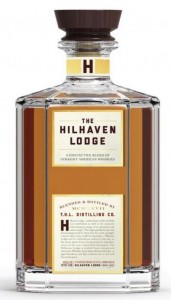 What the Bottler Says:
Introducing The Hilhaven Lodge™, a celebration of American Whiskey craftsmanship as aged Bourbon, Rye and Tennessee Whiskeys from three distinct decades combine for a rich and flavorful spirit—the spirit of Hilhaven Lodge.
What Gary Says:
Nose: Bright rye spice with dill and crushed mint, young with candied orange zest.
Palate: Sweet citrus, vanilla, and honey; spice is rather subdued, mellow all around.
Finish: Moderate, with the spice barely peaking up at the end
Comments: A hint of that "Tennessee whiskey" mellowness is on the nose and palate. They don't list the ratio, or which whiskey came from which decade (others have reported that the rye was the oldest component, the TN whiskey in the middle, and the bourbon the youngest). The nose to me screams rye, but the palate doesn't deliver. I really wish this could have been bottled at a higher proof. I was rather excited by the nose, and felt quite let down when it touched my lips. I suspect this might have been amazing at 100 proof, but alas, one can only wonder. While not a big financial gamble, I can't recommend unless you're a fan of really smooth whiskey.
Rating: Probably Pass
What Richard Says:
Nose: Clarified butter, fresh cut grass, and vanilla extract.
Palate: Sweet orange creams and a light spiciness. I would swear this saw some of the Lincoln County Process.
Finish: Dry and uninspiring with a bit of a hot spicy backing.
Comments: Not bad but not great. There are plenty of $30 bottles of whiskey out there that you might like more. I don't think the blending gimmick is enough to justify a $40 to $50 price tag. It's a little too smooth on taste and hot in the mouth…which is kind of odd. Given that this is Diageo, the rye is most likely MGP and the Tennessee Whiskey is probably Dickel. As for the bourbon, who knows.
Rating: Average

We would like to thank Diageo for sending us a sample to review.