Laphroaig Lore Islay Single Malt Scotch Whisky
48% ABV
$125
Website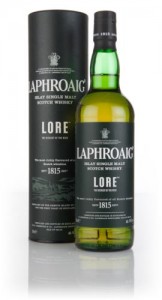 What the Distillery Says:
Since 1815, each Laphroaig Distillery Manager has been the custodian of the craft to make the richest single malt in the world. Over the years, each has passed on their skills and traditions to the next generation to continue this legacy. To honour this passing of knowledge, our Distillery Manager John Campbell has created Laphroaig Lore, the richest ever Laphroaig. Lore, meaning the passing of a skill or tradition through word of mouth, is the story of how we make Laphroaig, encapsulating the craft passed down from generation to generation over two centuries.
'Lore' is a complex marriage of both classical Laphroaig styles and many ages of Laphroaig. The marriage draws from the peaty power of Laphroaig in the same vein as Quarter Cask but with the smoothness of double matured stock finished in European oak hogsheads. To add even further depth and complexity we used our most heavily peated whisky matured in ex-Laphroaig barrels along with some fully sherry matured casks. To ensure none of this amazing flavour was lost we bottled Lore at a full 48% ABV and simply barrier filled before bottling. The result is stunningly complex.
COLOUR: Deep mahogany
NOSE: Rich and smoky with seaside minerals with a hint of ash and bitter chocolate drops. Vanilla follows with oily unroasted chestnuts and a hint of fudge with a malty sweetness. A drop of water adds a creamy clotted cream note with fruit appearing in the form of unripe citrus in a flan glaze.
PALATE: Richly peaty with a spicy chilli bite
FINISH: Short dry finish and a long sweet aftertaste
What Richard Says:
Nose: The nose has a deeper, richer smokiness than normal Laphroaig. Nutty with layers of worn leather.
Palate: This is popping with sherried sweetness. Malty, smokey, and salty.
Finish: Dry and salty.
Comments: This dram integrates the sherry much better that other Laphroaigs and other heavily peated drams in general. I'm not sure it is a $125 bottle but scotch prices keep climbing so maybe my baseline is just off. Either way, it is a stand out dram.
Rating: Stands Out
We would like to than DBC PR for sending us a sample for review.