Knob Creek Kentucky Straight Bourbon Whiskey
2001 Limited Edition Batch 1, #12,302
50% ABV
$130
Website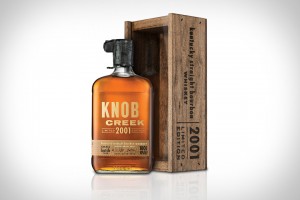 What the Distillery Says:
Knob Creek 2001 Limited Edition Bourbon commemorates a significant year for Knob Creek, as late in 2001, the tradition and responsibility of stewarding Knob Creek Bourbon was passed from Booker to Fred — from father to son. This release, made from barrels that Booker laid down in 2001, was finished by Fred Noe in honor of all he learned from his father and stays true to the pre-prohibition standards that Booker sought to restore when he introduced Knob Creek Bourbon. Bottled at 100 proof and aged for 14 years, longer than any other Knob Creek release to date, this bourbon has an even bigger, fuller flavor than what Knob Creek fans have come to love. It will be released in three limited batches, each accentuating distinct notes of the 14-year-old liquid, for a suggested price of $129.99 for a 750ml bottle.
Packaged in a commemorative wooden case, Knob Creek 2001 Limited Edition Bourbon was selected with the following characteristics:
Age: More than 14 years
Proof: 100
Color: Deep golden amber
Aroma: Robust oak and char notes balanced by sweet vanillas and caramels with a hint of warm brown spice
Taste: Complex oak and char notes with subtle vanilla and warm spice
Batch One: Higher in sweet notes, vanilla and caramel; very smooth
Batch Two: Higher in wood and oak notes; more tannic in nature
Batch Three: Mid-way between Batch 1 and Batch 2, slightly favoring notes of wood
Finish: Smooth and warm sweetness
What Richard Says:
Nose: Woody in a very tannic way. Burnt vanilla sugar comes to mind.
Palate: Barrel char comes out first. This is a little hotter than other Knob Creeks I've had. The vanilla and caramel sweetness moves forward with notes of cinnamon and allspice berries but there is a strong peppery back to the palate.
Finish: Hot oak and deep peppery spice. Very dry.
Comments: It seems like these days that just about every bourbon producer finds a way to piss me off. Well Jim Beam…here you go. A 14 year old Knob Creek for $130? What!?! You can regularly find Knob Creek Single Barrel store selections in that age range that taste just as good if not better at a higher ABV. And then you have the audacity to call it a "limited edition"? I'm not sure what your idea of limited is but it greatly differs from mine. My sample was from bottle 12,302 of BATCH 1! And there are THREE BATCHES!! In no realm of reality is 35,000+ bottles of anything a "limited edition". It's only limited by the space time continuum.
Is this a bad whiskey? No, not at all. It's a fine bourbon that's maybe seen a few too many years in the wood. On flavor components alone I would say this bourbon Stands Out among others but at $130 I would pass on this if I was you. You could buy an equally good, or better Knob Creek Single Barrel and pocket the other $80.
Rating: Stands Out