Talisker Single Malt Scotch Whisky Aged 10 Years
45.8% ABV
$60
Website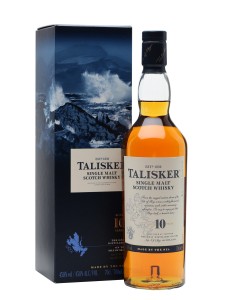 What the Distillery Says:
APPEARANCE Brilliant gold
NOSE Powerful peat-smoke with just a hint of sea-water saltiness, fresh oysters, and a citrus sweetness.
BODY Full.
PALATE A rich dried-fruit sweetness with clouds of smoke and strong barley-malt flavours, warming and intense. Peppery at the back of the mouth.
FINISH Huge, long, warming and peppery in the finish with an appetising sweetness.
What Gary Says:
Nose: Bright sweetness, stewed peaches and pears, subtle peat smoke with musty oak, sea air, cereal maltiness.
Palate: Creamy mouthfeel, honeyed sweetness with a hint of pears before a savory/ subtle pepper spice, pleasant earthiness, peat smoke.
Finish: Moderately long.
Comments: Very pleasant dram. Nicely balanced between sweet, smoke, earthy. Reminds me of the sea and the mountains, which I guess ultimately reminds me of Scotland. This dram has a bit of all that terroir (I'd say a bit of everything I love about Scotch, but the lack of sherry would make that an outright lie!) As I know smoke and peat might not appeal to everyone, I'm hesitant to say "Must Try", but if you don't really have a stance on that, or are just starting out with single malts – I would definitely encourage you give it a go!
Rating: Stands Out/Must Try
What Richard Says:
Nose: Rich, earthy, and smokey with a lovely sweetness in the background.
Palate: Smokey and slightly salty with a toffee like sweetness and malty backbone.
Finish: Pepper and brine linger as the other notes fade.
Comments: It sounds a bit pretentious but as the years progress I find it harder to find enjoyment in younger single malts. At 10 years old there are very few single malt scotches that I still enjoy. Talisker is one of those few. This is a delicious and robust malt that demands attention and offers layers of depth in return. As the price continues to climb in recent years it makes it harder to buy at 10 years but it is still very enjoyable.
Rating: Must Try