The Glenlivet Founders Reserve Single Malt Scotch Whisky
40% ABV
$45
Website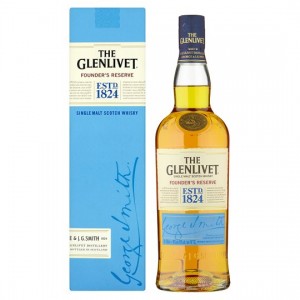 What the Distillery Says:
Inspired by our legendary founder George Smith, this whisky is an expression of both tradition and innovation.
Its creamy sweetness originates from the selective use of first-fill American oak casks, still so full of the Bourbon character their previous occupants left behind, and complemented by traditional oak casks. This sweetness contrasts wonderfully with the liveliness of zesty fruits, creating an expression that is worthy of its reserve status.
Colour: Pale gold
Nose: Citrus fruit, sweet orange
Palate: Zesty orange, pear, toffee apples
Finish: Long, creamy, smooth
There is a delicacy in the aroma that is infused with hints of citrus fruits, notably sweet orange. This sweet and fruity theme continues with notes of pears, zesty oranges and a hint of toffee apple, before a creamy, long and extremely smooth finish.
What Richard Says:
Nose: Grassy, citrus fresh, vanilla, and herbal throat lozenges.
Palate: Modestly sweet, grainy, and grassy but thin and uninspiring.
Finish: Malty fennel seed fading slow.
Comments: This latest No Age Statement line expansion by Glenlivet struggles to get traction in the line up. It's very thin and doesn't bring much to make you want to come back. It seems like a new Glenlivet to crush with soda if it wasn't 50% more than the standard 12 year old. Skip the Founders Reserve and just get the 12 or 15 year olds.
Rating: Probably Pass