Edradour Highland Single Malt Scotch Whiskey Aged 10 Years
40% ABV
$60
Website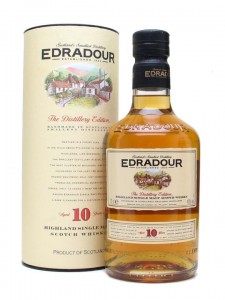 What the Distillery Says:
Despite being so small Edradour produces more whiskies than most other distilleries. Owner since 2002, Master of the Quaich Andrew Symington has expertly used the spirit from our small stills, matured in the highest quality oak wood, to create a stunning and diverse range of single malts.
The ten year old Edradour is handmade and one of the last Single Malt Whiskies from a traditional farm distillery still in production today. The methods of production remain virtually unchanged in the last 150 years and are only just capable of commercial quantities. Indeed Edradour Distillery makes as much whisky in a year as most distilleries produce in a week. A rare pleasure for a fortunate few.
Aged in a combination of Oloroso Sherry and Bourbon casks. Chillfiltered at 40% ABV.
Nose: Hints of dried fruits, Oloroso and almonds
Palate: Spicy Christmas cake, sweet golden syrup with a touch of honeyed almonds. A distinctive, old fashioned, rich mouth feel coming from the small copper farm stills
Finish: Oaky, soft spices, mellow and warming
What Richard Says:
Nose: Dried herbal potpourri, sherry, and a meaty nutty backing.
Palate: The rich sweetness of (good) fruit cake drizzled with a sherry reduction at first that then moves into a bitter almond and malt dryness.
Finish: Dry, nutty, spicy, and woody finish of medium length.
Comments: This is a rich sherry dominated expression that punches well above its weight. As I get older and drink more whiskies I find that what I'm looking for in a good single malt is hard to find in the 10 year age range. There are a few exceptions (Laphroaig Cask Strength 10 Year Old, Talisker 10 Year Old, and Springbank 10 Year Old) and I think is another to add to that list. It drinks well above its age and is a deeply satisfying dram.
Rating: Must Try