WhistlePig Straight Rye Whiskey 15 Year
46% ABV
$200
Website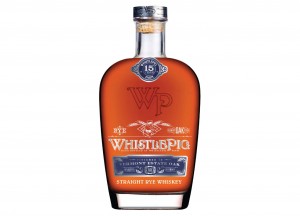 What the Bottler Says:
Within this bottle is the culmination of years of patience – a liquid chosen from our finest stocks to be aged for more than a decade, only disturbed as it was transferred from specially selected former bourbon casks to barrels made from slow-growing Vermont Oak harvested on the WhistlePig farm.
The harsh winters and shorter growing seasons of the Green Mountains bestow a tighter grain pattern upon these trees, imparting nuanced flavors into the whiskey. After being milled, seasoned, and raised by some of the best coopers in America, the new barrel receives a long toast and heavy char designed to draw out a rich sweetness that complements the natural spice of aged rye.
The final product mingles rye spice with wood sugar, earthy oakiness and lush citrus notes, all wrapped in a velvet smoothness unique to the finest aged spirits. We are proud to share with you the fruit of our labors the WhistlePig 15 Year.
Nose: Deep and rich, dominated by caramel, vanilla, and oak with hints of all spice and burnt orange.
Taste: Warm, rich, and slightly creamy; Loads of butterscotch and baking spice with leather and a hint of tobacco
Finish: Ultra long and rich, warm, and inviting
What Gary Says:
Nose: Big, bold, crisp rye spice; citrus punch with underlying oak.
Palate: Thick/viscous/creamy mouthfeel, orange bitters with caramel chews, hints of pipe smoke and pepper spice.
Finish: Moderately long, and not as dry as I expected for the age.
Comments: Very bold rye whiskey – not very oaky/woody. In fact, on both the nose and palate I'd have pegged it as younger because of the lack of oak, but it has enough complexity and bold flavor to make up for it (and for my palate, I prefer less oak – so this is right in my wheelhouse). This has the kind of nose where I could pour and just smell it for hours, and while the palate is quite enjoyable – it isn't quite as bold as the nose advertises (but is still very nice). I think rye fans would appreciate this, but the price tag makes it challenging – and I definitely recommend a "try before you buy" approach if you have the opportunity.
Rating: Stands Out
What Richard Says:
Nose: Vanilla extract, orange zest, something like lacquer, and a minty woody backbone.
Palate: Creamy and spicy with light notes of sweetness. Cigar tobacco, fennel seed, caramel, and oiled leather.
Finish: Much lighter than I would expect. Linger mint, polished wood, and more oiled leather.
Comments: This is a very nice rye. It smells absolutely stellar but the palate is a little lacking to me. I find a little less than I expected. I thought the Boss Hog bottling was richer and more robust of flavor for a bit less. $200? Well that is steep and it is up to you to determine that for yourself. I wouldn't drop that kind of coin for it but value is very subjective.
Rating: Stands Out
We would like to thank WhistlePig for sending over a sample for us to review.