Aultmore Speyside Single Malt Scotch Whisky Aged 12 Years
46% ABV
$50
Website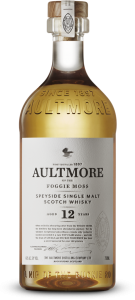 What the Distillery Says:
John Dewar & Sons Ltd., one of the most respected names in the world of Scotch whisky, today announced plans to release a range of new expressions and never-before-released single malts – the hidden gems of its single malt portfolio. This bold move, unprecedented in recent years, will introduce a treasure trove of top-shelf whiskies to consumers around the world.
The distinguished drams of ABERFELDY®, AULTMORE®, CRAIGELLACHIE®, THE DEVERON® and ROYAL BRACKLA® are launched under the title of the "Last Great Malts," each with a compelling story and character.
For generations, these distinctive whiskies have been distilled and left to mature undisturbed in oak casks. Now, at last, whisky aficionados the world over will be able to taste the single malts from these distilleries in their authentic form. "The single malt category is one of our industry's great growth opportunities. We are blessed with five of Scotland's finest, high-quality whiskies," says John Burke, dark spirits category director. "We have great respect for the category and are confident that each of the Last Great Malts will be a fitting addition to the repertoire of the most discerning single malt enthusiast."
AULTMORE is a rare Speyside malt known locally as "a nip of the Buckie Road." The distillery's water filters down through the misty, mysterious area called the Foggie Moss. AULTMORE is rated top-class and is a dram sought after for its gentle grassy notes. AULTMORE will be available from November with a 12- year-old, a 21-year-old in Travel Retail, and a 25-year-old in limited quantities.
What Richard Says:
Nose: Grassy and very inviting. A dry kind of vanilla with a floral, fruity backing.
Palate: Rich and ripe sweetness. Poached orchard fruits drizzled with honey syrup. Del Monte canned pears in the best possible way.
Finish: Crisp apples, and a slight bitter dryness.
Comments: Wow what a difference those few proof points make in terms of richness, depth, and mouthfeel. This is my first experience with an Aultmore bottling and it is delicious. It is rich, creamy, sweet, inviting, and painfully drinkable. I will easily be seeking out more expressions from this distillery.
Rating: Must Try
We would like to thank Bacardi for sending over a sample for us to review.