Yellow Rose Straight Rye Whiskey
45% ABV
$35
Website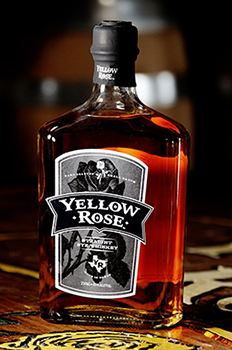 What the Bottler Says:
Yellow Rose Straight Rye Whiskey is hand selected, blended and bottled in Texas. Enjoy whiskey as it was before prohibition with this small batch limited production spirit. Made from 95% rye, this whiskey is a true American classic perfect for fine cocktails.
COLOR: Copper, amber.
NOSE: Mild vanilla and pine with hint of brown sugar.
PALATE: Slightly sweet, spearmint with mild pepper and maple.
FINISH: Medium finish with less pepper than other rye whiskey's.
COMMENTS: One of the best rye whiskey's ever! Makes for the perfect Old Fashion or Manhattan!
What Gary Says:
Nose: Young and brash, bright rye spice, orange zest, and subtle fresh pickles.
Palate: Creamy mouthfeel, softer on the palate than the nose, mellow, light fruit, orange zest, bit of spice kicking into the finish.
Finish: Fairly short.
Comments: Interesting rye whiskey – on the nose it screams MGP high rye (which I suspect is its origin), but on the palate it was out of sync for me – feeling a bit more like a "barely legal rye". While the nose is brash and sharp (as you expect in a rye), the palate is much more mellow and soft; lacking that rye kick, although it picks up in the end. It reminds me a bit of Dickel Rye with how mellow it is on the palate, and I like that – although that is 2/3 the price of this, so not sure I'll rush out to grab a bottle.
Rating: Stands Out
What Richard Says:
Nose: Minty, floral sweet, grassy, and fresh. Classic (relatively) young MGP rye. We smell it so often that if we aren't careful we all begin to believe that MGP's rye is what all rye is supposed to smell like just from the numbers of bottles of their rye on the shelves.
Palate: Herbaceous and minty sweet.
Finish: Slightly bitter and rather short.
Comments: Ah…another in a long, long, LONG string of bottlers giving us their particular slice of MGP's stock of rye whiskey. There is nothing wrong with this particular expression of MGP rye. Rather, it's that this rye is becoming so ubiquitous that it's hard for newer bottlers to stand out. My advice…if you are going down the MGP rye route you need to do something to the damn whiskey to give it your own stamp. "Blending" various barrels of it just doesn't cut it anymore.
Rating: Average
We would like to thank Yellow Rose Distilling for sending us a sample for review.