Yellow Rose Outlaw Bourbon Whiskey
46% ABV
$60
Website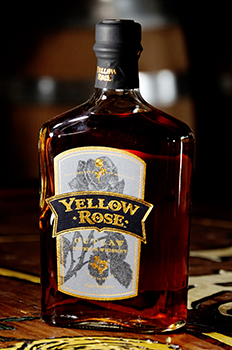 What the Distillery Says:
Yellow Rose Outlaw Bourbon breaks all traditional bourbon laws just like the Outlaws of the old west. Made from 100% corn our recipe produces a sweet flavor we know you will enjoy. Aged in small American oak barrels, Outlaw Bourbon is a full flavored drink with warm caramel and vanilla overtones. Not many distillers still use a traditional pot still, but we believe this helps us produce a true small batch whiskey.
COLOR: Old gold, copper.
NOSE: Intense aroma, rich caramel and vanilla with a hint of floral.
PALATE: Slightly sweet and extremely rich.
FINISH: Long, maintaining caramel and vanilla. Like a good dessert!
COMMENTS: Unique bourbon providing a great experience for both enthusiast and first timers.
What Gary Says:
Nose: Freshly baked cornbread or corn muffins.
Palate: Corny sweet, young with oak.
Finish: Short, with a bit of pepper as it fades.
Comments: If asked to identify this in a blind taste test, I'd have picked this out as corn whiskey rather than bourbon – which isn't too surprising as the mashbill is 100% corn. The first comparable whiskey that came to mind was mellow corn (although that is a bottled-in-bond, so higher proof and at least 4 years old). I would suspect that this is probably younger than 4 yrs old by the taste, but that is pure speculation. The smaller barrels add more wood influence, for my taste – prematurely, as it isn't as integrated as a whiskey aged in a 53 gallon cask. I don't think they were shooting for an integrated/thinking type of whiskey, so a bit of oak brashness from a small cask is probably delivering what they're looking for here. I'm a fan of corn whiskey – and if you are too, this might be worth trying. If you're looking for bourbon and are not a fan of corn whiskey, this might leave you disappointed. And the price point makes it tough to take out for a test drive.
Rating: Average
What Richard Says:
Nose: Corn liquor coming off the still mixed with smoked meats. It's very unbourbon like but kind of sexy.
Palate: A bit of a fiery red head this one is. Corn whiskey sweet with a kick of oak and more of that oddly delightful BBQ smoked flavor.
Finish: A little hot but less than you would expect for the age.
Comments: Interesting is the word that comes to mind. When I drink this I don't think bourbon at all. I almost worry that they do themselves a disservice calling it bourbon instead of corn whiskey. I think bourbon drinkers would not necessarily find what they are looking for in a bottle of this. However, that smokey note that sits through the nose and palate I find very compelling. Not something I would run out and buy for $60 a bottle but if you have broader whiskey interests it might be something to try at a bar. If it wasn't so damn expensive (and yes I understand the harsh economics of starting a new distillery) this would be great for giving your BBQ sauce recipe a kick in the ass!
Rating: Average
We would like to thank Yellow Rose Distilling for sending over a bottle for review.