Yellow Rose Blended Whiskey
40% ABV
$35
Website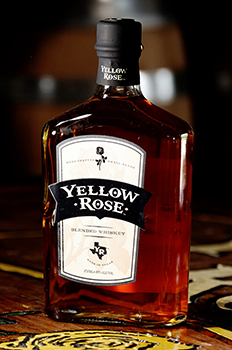 What the Bottler Says:
Yellow Rose Blended Whiskey is a fusion of character just like Texas culture. A perfect blend of southern charm and rustic cowboy ensures a smooth drinking whiskey with plenty of heart. Our blended whiskey is fuller flavor than typical Canadian blends due to a higher bourbon content.
Still easy to drink and slightly sweet, Yellow Rose Blended whiskey is great on the rocks or as a mixer
COLOR: Deep gold
NOSE: Light aroma, fruity banana with caramel
PALATE: Sweet with banana
FINISH: Medium finish
COMMENTS: Full flavored blend that is still easy to drink
What Gary Says:
Nose: Very light, faint sweetness and a bit of wood & alcohol.
Palate: Sweet but thin, with just a hint of oak & fruit.
Finish: Fairly quick.
Comments: I set my bar lower for blended whiskey than bourbon, and this managed to limbo in just under my expectations. I definitely didn't get the fuller flavor they mentioned. On the nose, my mind drifted more towards cleaning chemicals than whiskey. To be fair, I like to sample something multiple times over a period of time, and I threw my notes out from my first go (as I think the pollen-apolypse we experience here in Georgia every spring was throwing me off). Maybe it would grow on me, but for the price point I don't think I'd give it a chance.
Rating: Average
What Richard Says:
Nose: Banana Mama cocktails on the beach in Cancun.
Palate: Smoked honey drizzled over a fruit cocktail with bananas foster on the side.
Finish: Sweet and mellow with a hint pepper.
Comments: This was a surprise. I really expected it to be awful. When I see "blended whiskey" I tend to think of Seagram 7 or something equally awful. This is a bit too sweet for my taste but it is very easily drinkable and not offputting in the least. $35 is a bit steep but I wouldn't turn down a glass.
Rating: Stands Out
We would like to thank Yellow Rose Distilling for sending over a sample for review.